Recently, Orbita SVP Corporate Strategy Kristi Ebong was invited to participate in a World Economic Forum (WEF) discussion about using chatbots to scale COVID-19 response. Kristi was joined by seven experts from private-sector companies across the world, including Google, Microsoft, and Babylon Health. The session was moderated by Kay Firth-Butterfield, the WEF's lead of Artificial Intelligence and Machine Learning, who facilitated dialogue between these key experts to gather information for evangelizing the use of chatbots to improve healthcare.
We caught up with Kristi on key insights and outcomes from this discussion.


Q&A with Kristi Ebong, Orbita SVP Corporate Strategy
Orbita: Tell me more about why this event took place.
Ebong: The World Economic Forum is using their platform and leadership role not only to evangelize the impact that this technology can have on people's lives, but also to provide valuable education in the process. My co-panelists were global leaders in the space including large tech companies and high-growth startups. It was an honor for Orbita to be included, and I'm especially grateful to Sundar Sundareswaran, World Economic Forum Fellow, for extending the invitation.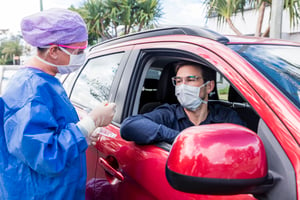 As part of its Chatbots RESET project, the WEF brought together panelists to discuss the key role chatbots are playing in disseminating curated information during the COVID-19 outbreak. What's most exciting is the group's discussion about the diversity of use cases that are now actively supported across many types of entities. We're seeing rapid adoption of technology to meet the immediate needs of healthcare organizations and large employers. We're seeing an evolution in buyers becoming more educated and making investments that they can grow as we return to work and a new post-pandemic
"normal."

Orbita: How did the discussion unfold?
Ebong: Panelists initially described how their organizations are using chatbots for COVID-19 response. The group agreed that what initially started as the launch of web-based screening tools is now moving to more full-scale digital transformation across the spectrum of care delivery. What's most exciting to me is that we're moving beyond basic chatbots. Organizations are trying to prioritize where to get started in scaling deployment to reach broader patient populations and bring value to other use cases.


Orbita: What did the agenda cover?
Ebong: These were some of the topics we discussed:
What non-technology-related barriers exist when implementing chatbots (information, privacy, bureaucracy)
The role of AI and machine learning (ML) in implementation
How chatbots and other conversational solutions can be applied to broader healthcare needs — what's happening now, and what's being planned


Orbita: What were some key takeaways?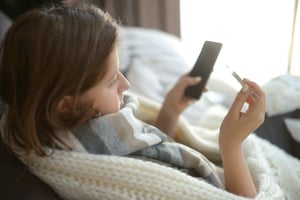 Ebong: Panelists agreed that one of the best ways to scale response to COVID-19 is with chatbot technology because:
Chatbots have been demonstrated as a useful technology for information dissemination to vast populations, especially with implementations at scale
Global adoption of chatbots for healthcare is happening faster than anyone could have guessed just a couple of months ago, and part of that is attributed to the stickiness of well-designed conversational experiences that provide real value to the patient along their journeys
The coronavirus epidemic is a petri dish of sorts — where we're seeing our most significant healthcare delivery problems play out on a global stage. With great challenge also comes great opportunity to use technology to scale our reach in helping patients
Security and privacy concerns cannot be ignored; consideration must be given to diverse regulatory landscapes across the globe as well as ethical issues


Orbita: Why is conversational technology so useful for this type of public health situation? Why not just use web or a mobile app?
Ebong: It's the ability to deliver information customized to individual users. This pandemic is personal to each of us. Pregnant mothers need to know how this affects them. Immunocompromised patients are scared because they don't know what they need to do differently. Older patients with heart and lung co-morbidities are anxious and feel uninformed. In a matter of weeks, hundreds of public and private sector organizations worldwide have deployed chatbots to support COVID-19 educational needs — to disseminate information and combat misinformation. Panelists agreed that chatbots have great potential for various healthcare applications and their use will continue to grow after the pandemic is behind us.
Health-related issues don't wait for business hours. People with health-related questions should have the convenience of asking questions when and where they have them, and in the context of their specific experiences. Chatbots are available 24/7. They use natural language and are interactive. This offers significant advantages over more static web or mobile information delivery — in that a user truly gets customized information tailored to his or her needs. Chatbots are used effectively to optimize timely and accurate distribution of information across large populations.
Beyond serving as a channel for educating the public about this pandemic, chatbots are also used for COVID-19 screening and triaging, especially to help guide symptomatic and at-risk populations and to address needs of the "worried well," folks who are healthy but worried. We're increasingly seeing outbound notifications sent via SMS or phone call to provide automated health check-ins: this is done via both chatbot and voicebot to reach the broadest patient populations. This is an especially critical layer of support when we want to help anxious patients who are recovering in quarantine at home, while providing channels for rapid escalation of cases and symptoms that require provider intervention.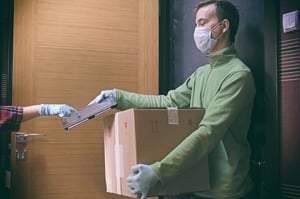 Employers are also using chatbots in response to new and overwhelming demands to address health needs of their employees and to follow new OSHA reporting requirements. In many industries, particularly Essential Businesses, employees are increasing their workloads and taking on new risk to serve unprecedented volumes of patients, accelerate medical supply manufacturing, and keep us fed and warm. On the flip side, many employees are transitioning to work remotely from home for the first time. Employers are using chatbots to engage with their staff for education, screening, and triage. Over time, return-to-work processes will be needed, and chatbots are already being used to assist with this.

Orbita: What other themes resonated with you?
Ebong: Economic anxiety right now is extraordinary: no one is untouched. The ability to maintain connection with patients as people – in their homes where they live their lives — is so important during times of uncertainty. We're seeing increasingly sophisticated chatbot technology that interacts naturally with people, seamlessly guiding them to the right care, facilitate a visit, or just stay connected.
Virtual agents are being used to augment both brick-and-mortar operations as well as virtual ones. These agents are providing experiences for virtual waiting room activity, for example, performing surveys and assessments and patient intake that's handed to the provider when they come on the line. This enables a richer patient-provider interaction.
Minimizing friction is critical for both patients and providers alike. We're starting to see organizations deploy one chatbot that checks symptoms, another that finds a provider, and a third that schedules a visit. For a seamless experience and smooth operational efficiency, healthcare organizations are tasked with removing barriers between discrete applications such as provider directories, appointment schedulers, and the EHR. We discussed interoperability at length — it's important to make investments with those considerations in mind.
This also ties to a need to reach individuals across many channels and of varying rates of digital literacy. People should be able to search for, find, and share information in many ways depending on the channels they prefer or the channels available to them—including web-based chat, SMS texting, mobile apps, smart speakers, and even analog phones which are widely used by the elderly.


Orbita: Content is king, right? What did the group discuss specific to content?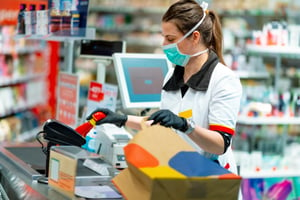 Ebong: As we've seen with a significant amount of misinformation now out there, the stakes in public health are high. It's incredibly important to use content from credible sources. The panelists discussed that, especially in healthcare, organizations must be disciplined about when to use machine learning (ML). You don't want a bot adapting clinical content for COVID-19 based solely on society's inputs and biases. We call this deterministic modeling vs. probabilistic learning.
Deterministic AI provides controls for using vetted clinical content. The CDC is today's most widely used source for clinically vetted information about COVID-19 in the U.S. As things unfold, we'll see a need to continually update content based on new learnings and changing recommendations. That said, most organizations serve patient populations with unique needs. We've got oncology centers of excellence who have patients at particularly high risk. They need to be managed differently than less at-risk populations. Just to start, we're seeing a new wave of tailored outreach for immunocompromised groups, pregnant mothers, and the aging population.
In this highly dynamic and evolving situation, organizations need flexible back-end environments that allow for rapid content ingestion from trusted sources. They'll also need easy-to-use interfaces for staff and clinicians alike to create, publish and manage this content so they're not reliant on a developer trying to understand their patients' unique needs and translate for next steps. In healthcare, content creators ranges from administrative assistants to clinical informaticists, and rom allied health professionals to nurses to sub-specialty physicians with niche expertise.
I want to be clear that I'm talking conversational content is king — which is very different from what's been our norm, specifically static content for viewing on web and mobile phones. In times of uncertainty — especially with health vulnerabilities — question-answering is the key. To grow at scale, organizations need robust knowledge base and knowledge graphing architectures that support conversationally intelligent searching and engagement.
Orbita: The panel included individuals from competing companies. Was that a challenge?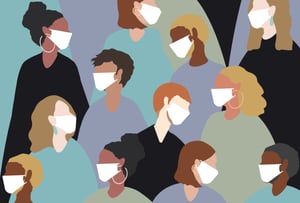 Ebong: Not at all. While healthcare has its competitors, the market is massive, and the reality is we could all work 24 hours a day and there would still be more to do. For the public health community, this is a once-in-a-lifetime opportunity to turn a global disaster into an opportunity for good. Many of us are working together. In just a month's time, more strategic partnerships have formed than ever. In the past, these would have taken potentially years to align.
Many consortiums have evolved over the past few weeks, and many more will as we work together to address a challenge unlike any ever seen. We must continue to educate. We must continue to build trust, especially among healthcare consumers who rely on everyone in this industry to support their health and wellbeing. Cooperation is not only important, it's critically necessary in a pandemic.

Orbita: Any last thoughts?
Ebong: One of my co-panelists serves as an officer on special duty to India's National Health Authority. He discussed the Government of India's planned release of a COVID-19 chatbot. He and a colleague from Tech Mahindra, one of India's top five IT firms, shared fascinating insights about multilingual and multidialect challenges as well as issues that arise when targeting technology-illiterate populations.
They also discussed the need for chatbots and other virtual assistants to make inferences and respond accordingly. For example, can a chatbot deliver the same response when questions are asked differently — such as "where is the nearest testing center" versus "what's the location of the closest testing facility?"
This is where the newest technologies get really exciting and where entirely new possibilities open up for chat, voice, and conversational AI to address public health needs. I'm grateful that the World Economic Forum is using their platform to lead, and to my co-panelists from this discussion for taking the time to share in this dialogue when there is so much to be done.