On Monday, Microsoft announced that it will purchase Nuance Communications for nearly $20 billion. This marks the second-largest acquisition from Microsoft, following their purchase of LinkedIn in 2016.
Boston-based Nuance develops artificial intelligence (AI) and speech-recognition software that spans numerous industries including government, retail, telecom, financial services, and healthcare. Nuance has seen tremendous growth in its technology that understands, responds, and transcribes speech.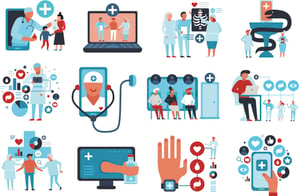 The COVID-19 pandemic was a catalyst for change and amplified interest around digital health tools and how they create meaningful impacts and efficiencies. During the pandemic, we witnessed higher rates of technology adoption and implementation than ever before. Voice recognition and conversational AI continue to gain momentum, and this acquisition draws major attention to their potential in healthcare and other industries.
So, what does this mean for the future of digital health?
While the pandemic normalized the use of these digital health tools during these times of social distancing, some questioned whether these solutions were here to stay. The size of this deal between Microsoft and Nuance places a tremendous monetary value on the digital transformations of the last year, and this validates the role of AI in health systems and encourages continued development and innovation in this space.
Valued at roughly $200 billion in 2021, the global digital health market is expected to reach $483.75 billion by 2025 as more healthcare organizations turn to developers to automate workflows and expand digital communication with consumers.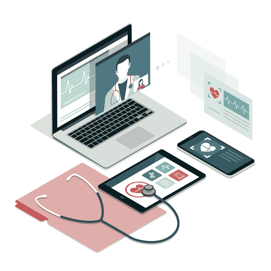 The scope of the healthcare industry offers immense potential for AI to be applied, which means there is no shortage of opportunities for developers to fill these gaps in care with automation. Conversational AI companies will remain distinguished by accelerating key differentiators. At Orbita, our omnichannel, multimodal solutions offer enhanced patient engagement and retention.
As more patients experience the convenience and of healthcare conversational AI, patients' expectations of healthcare will grow. Patients want more consumer-friendly and consumer-centric experiences, and the organizations that meet patients in this way will reap the benefits of improved engagement and satisfaction.
In summary, digital health is here to stay and the use cases of conversational AI in healthcare are expanding - offering an abundance of opportunities to players in the healthcare conversational AI space.
"AI is technology's most important priority, and healthcare is its most urgent application." -Satya Nadella, CEO of Microsoft