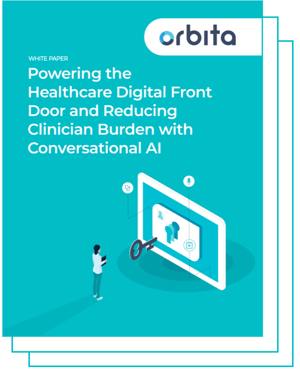 Clinician burnout is well-established and has been studied for over a decade. The health IT community has responded with efficiency tools, training, and programs for clinicians, with a lesser focus on using digital tools to offload this burden by automating processes and equipping clinicians to practice at the top of their license. A recent JAMIA publication found that EHR efficiency tools are not likely to reduce burnout symptoms.*
A 2020 Medscape poll of over 15,000 physicians found that nearly half the respondents reported symptoms of burnout, defined as feelings of job dissatisfaction with elements of hopelessness. A shocking one out of five respondents had considered suicide.
Adopting a 'Digital Front Door' powered by conversational artificial intelligence (AI) supports automation and self-service to put resources and information in the hands of consumers and patients, reducing administrative tasks and patient messages for the providers while enhancing the patient experience.
Healthcare organizations realize the potential of AI. A 2018 HIMSS Media survey of healthcare organizations (HCOs) found that 77 percent of them either used or planned to use AI or machine learning in their delivery of care.
Providers are also on board with virtual support. Out of 10,000 U.S. clinicians polled in 2017, 80% believe that virtual assistants will drastically change healthcare for the better.
Can technology reduce clinician burden by engaging and empowering patients to get (and share) the information they need, when needed, and through their preferred channels of communication? If poorly designed, technology will only exacerbate existing problems, as we have seen with poorly designed electronic health record (EHR) systems. To engage patients at the digital front door, technology must be well-integrated into the patient journey and corresponding clinical workflows, ease sharing of information, and focus on improving the patient and clinician experience.
Orbita recently published a white paper with additional resources and best practices for leveraging the digital front door in healthcare to reduce clinician burden and create meaningful efficiencies.
*NOTE: All references in this blog post are listed and linked in this white paper.