Patients with immediate health issues usually want immediate answers. "How can I treat a bee sting?" "I've got a strange rash." "I've had a migraine for three days. Help!"
Use of virtual assistant technology is the new frontier for engagement, and savvy healthcare organizations are thinking strategically about how to implement conversational AI into their consumer and patient engagement activities.
Today, most voice tools are transactional and, as such, focus dominantly on consumer engagement. Early adopters of conversational AI in healthcare are now moving into the realm of clinical engagement with a focus on patients and their wellbeing. Regardless, organizations must consider how voice differs from other digital channels to ensure that applications deliver quality experiences.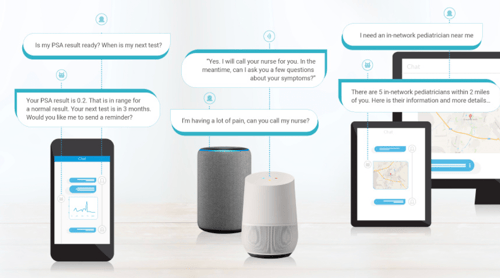 "Regardless of the application, a poorly developed conversational assistant will likely see poor adoption. In this scenario, organizations may inadvertently stop or delay future development," says Bill Rogers, Orbita CEO. "In doing so, they may risk being behind the eight ball in benefiting from what's likely to be the most powerful patient engagement technology yet," says Bill Rogers, Orbita CEO.
In a recent webinar, Rogers and his Orbita Chief Product Officer Bill Cava discussed how healthcare organizations can use voice and chatbot-powered virtual assistants to improve patient engagement and become leaders in the field.
"In the near future, your organization's prudent development and strategic use of conversational assistants will critically differentiate you from your competitors," says Rogers.
Rogers and Cava collectively have nearly 50 years of software industry experience and previously co-founded Ektron which started as a web content management solution provider and evolved into a broader platform for digital experience management.
This post relays the six key ways they see voice technology as an effective catalyst for growth in healthcare enterprises.
Conversational AI for Healthcare
1) Health coaching: Sometimes patients just need advice. With a virtual health coach, they can ask questions directly through whatever method they choose: web chatbot, smart speakers, SMS, or even an analog phone. The responding virtual assistant is an interplay between the actual questions and answers (in other words; the context) and the patient's personal data that is processed and handled by the conversational AI. Together they create a relevant, accurate, and personalized conversation.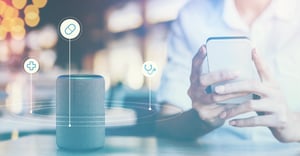 2) Post-discharge education: When a patient is discharged from the hospital, they may be given instructions for self-care. An enterprise conversational AI platform can provide educational modules and post-treatment instructions. Patients can interact with dynamic educational data by asking the virtual assistant questions instead of calling their care team.
3) Medical Q&A: Patients with questions about medical care can move through a chatbot conversation and, if still not fully satisfied, be connected to healthcare staff who can answer their questions. Once initial information is gathered by a virtual assistant interacting with the patient, conversational AI can draw from the individual's personal health data to make connections and relay relevant data to the care team.
4) Assisted living concierge: For residents in assisted living environments, voice technology can reduce social isolation, improve medication adherence, optimize care management, and more.
5) Clinical trials: Patients who participate in clinical trials can contribute data via voice for patient assessments, daily diaries, and symptom logging, and also engage for supply ordering, and patient education.
6) Consumer marketing: Conversational AI can reduce friction by making it easier for people to find information about a healthcare organization. For example, during membership enrollment, a chatbot can take a patient forward and backward through the enrollment process. This conversational engagement helps them find a plan to best suit the individual's needs.
Seek Voice Technology and Conversational AI Experts
Cava recommends that healthcare organizations leverage an enterprise, HIPAA compliant conversational AI platform for voice and chat engagement, and resist the possible inclination to 'roll your own.' According to Cava, an organization's efforts to build a conversational AI platform internally can create significant pitfalls:
More expensive in the long run

Less secure

Lacks long-term product ownership and roadmap

Difficult to establish training and documentation



An enterprise-grade conversational AI platform can support the full lifecycle of conversational projects and interplay among them — thus providing security and long-term viability. This includes capabilities to:
Design and prototype the conversational experience

Develop conversational models and define conversation flows

Manage voice AI deployment across all voice, chat and other channels

Continuously optimize the conversational AI to improve relevance and accuracy
Ensuring that conversational AI is engaging and HIPAA-compliant should be a goal of every healthcare organization. It's worth seeking out conversational AI experts to find solutions that will best serve your consumers and patients throughout their journey.
To learn more about the most effective use of voice and chat in your healthcare organization, contact Orbita. As the leader in conversational AI for healthcare, Orbita not only delivers the industry's leading platform, but can also assist in helping you develop your strategy in this area.