If you needed proof that voice technology is hot, look no further than the number of new product offerings launching in the next few months.
Perhaps the most anticipated and innovative of the lot is the new Amazon Echo Show. Now, instead of Alexa telling you things, she can show you things. In addition, using Echo Show, you can converse with real people, using the device's video calling feature.
You still interact with Alexa with your voice, and she is still able to do the tasks she's known for, such as remotely adjusting lights and thermostats. With Echo Show, however, you have more engaging content that will also require your eyes. For example, you can ask Alexa to show you the weather forecast, the lyrics to songs on Amazon Music, and what video monitors, such as nursery cams, are seeing.
The ability to make hands-free video calls is another step forward. Echo Show also has a feature called "Drop In," which is like video messaging. A user's contacts need to opt-in to this service and can disable the video aspect of this feature on a drop -in by drop-in basis if they desire. The benefits of such a feature are clear. With Drop In, caretakers of aging parents or friends can check on their loved ones, providing support to the elder and comfort to both.
Echo Show weighs over two and a half pounds. It's not a smartphone replacement, but instead, a new way to communicate with all the important people and services in your life.
Echo Show goes on sale on June 28. Its retail price is $229.00. For more information visit amazon.com/echoshow.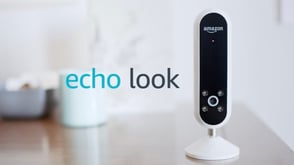 Another Amazon device releasing soon is Echo Look, which allows users to take full-body photos and videos of themselves so they can judge how they look before they walk out the door and the world does it for them.
As for voice, Echo Look offers the same capabilities of its forebear, the Amazon Echo.
Echo Look's app uses machine learning to compare style choices and rank them. It's like Project Runway in your bedroom, except you can't be sent home. You're already there.
Echo Look retails for $199.99. There is no release date. For more information, visit amazon.com/echolook.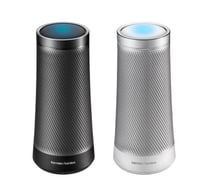 Flipping the model of a voice technology company introducing speakers, Harman is a speaker company introducing voice technology. For Invoke, it's Microsoft's Cortana.
Invoke is capable of handling many of the tasks you would expect from a voice-activated device. It can play music, manage your calendar, set reminders, deliver news, weather, sports, and traffic updates. The partnership with Microsoft allows users to make calls to mobile phones, landlines, and other devices using Skype. Invoke also allows for smart-home integration.
Invoke uses Sonique™ voice technology, employing seven microphones and echo cancellation and noise reduction to be certain it can hear you in less than ideal conditions.
Invoke will be available in the fall. At this time, the price has not been set. For more information, visit harmonkardon.com/invoke.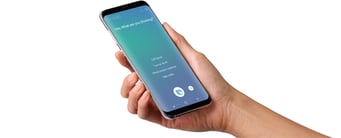 Bixby, Samsung's vision of voice-activated services, differs from those of Apple, Amazon, and Google. Instead of going to the internet to collect and share information, Bixby wants to help you use your smartphone. The idea is that "anything you can do with touch, you can do with voice."
Right now, Bixby only works with 10 or so Samsung Android apps. Samsung emphasizes, however, that Bixby will work with Google Play Music and other third-party apps as well as with Samsung Connect smart-home devices.
With voice commands, Bixby is capable of minor manipulations to photos. It can also launch videos, or send them to a television to be played. Some things, though, still require your thumbs instead of your tongue. For example, Bixby can help you find a picture, but to send it to someone, you need to type in the email address.
The other apps besides the gallery that are Bixby enabled include phone, messaging, settings, reminder, contacts, and camera. To activate Bixby on the Galaxy S8, you'll need to press the Bixby button.
The launch of Bixby has been delayed. More information is available at http://www.samsung.com/us/explore/galaxy-s8/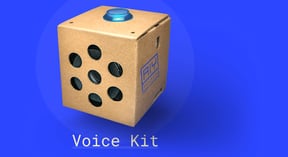 Finally, for those people who like to tinker, AIY Projects recently launched an open source AI Voice. The kit supplies the hardware for capturing voice as well as the speakers for playback. Users will use Android Things on this DIY kit and can expect full functionality.
With limited processor performance, DIY AI will not be a replacement for Siri or Alexa. Instead, it can be viewed as a teaching tool, inspiring the next generation of AI engineers. For more information, visit https://aiyprojects.withgoogle.com/.
Clearly, voice technology is improving, providing myriad ways—and products—to help us interact with our digital world in the simplest, most natural way possible. Don't be surprised if in another few months you see another blog post similar to this one.