Since Alexa (Amazon's voice control system) and Echo (Amazon's first Alexa-driven device) were brought out late in 2014, Amazon introduced a number of different members to the Alexa device family. This can make for some confusion. ZDNet had a recent article that asked the question "Which Alexa is right for you?" that's aimed at consumers. We thought we'd take things one step further and look at the Alexa-driven devices from the perspective of developers building voice-based home healthcare apps.

The Amazon Echo
This is a great device for recording health information, and for communicating by voice with caregivers. One of the benefits is its speaker and microphone range: it can pick up commands from some distance, so that a person doesn't need to be on top of Echo to make sure that it hears a command. But at $179.99, it's on the expensive side, and some of what you're paying for is relatively high-quality speaker for listening to music, which is not generally something required for a healthcare app.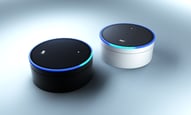 The Echo Dot
The Dot is a stripped down version of the original Amazon Echo, and most of what's stripped out is the speaker. But Dot includes the essentials, and for an app that will only need to work in one room, it's certainly capable of handling apps that take care of tasks like recording medication, and for making calls. And at $49.99 it's at a more attractive an accessible price point.

The Echo Tap
As the name imply, you tap the device to turn it on, a feature designed to add battery life. There is an option that puts you in hands free mode, so there's no longer the need to touch it. With the hand free option, it's pretty much a standard Echo, but it's chargeable and portable, which makes it a decent option for use in multiple rooms or when someone's on the move. On the downside, ZDNet has a suspicion that Amazon may be end-of-lifing this device.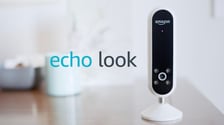 The Echo Look
This device is most decidedly not aimed at the home healthcare market. It's aimed at fashion-forward selfie takers who want to take pics and videos of their daily "look". Not to mention check their "look" from every angle. Some of the technology, like the front LED lighting and the embedded camera, will likely make its way into other Alexa devices. And that technology will be useful for home healthcare apps. Anyway, developers don't need to worry about giving The Look at look. It isn't released yet.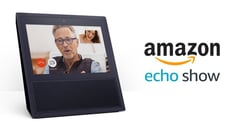 The Echo Show

This device is a an Echo souped up with the addition of a screen and camera. It supports video chat, as well as applications that provide visual/video information alongside verbal information. This will provide an enriched experience for those using home healthcare applications, and may even produce better outcomes in areas such as medication compliance. We had a recent post on the Echo Show, which you'll find here.

The bottom line is that, when it comes to home health care applications, there are a number of interesting Alexa-based devices from Amazon that developers can choose from.