"Consumerism has the potential to improve communication between patients and clinicians and facilitate better shared decision making. How patients and clinicians strike this balance will be one of the emerging challenges of practicing medicine in the decades to come." -Richard Zeckhauser, PhD and Benjamin Sommer, MD, PhD
The rise of consumerism in healthcare has highlighted the importance of digital transformation strategies to meet patients where they are and alleviate burdens on healthcare providers (HCPs).
Health consumerism is a movement that advocates for patients' involvement in their own healthcare decisions and patient journey.

Consequently, this trend has ushered in a new approach to care delivery that puts the patient at the center with the health system revolving around their needs. Instead of the traditional 'doctors says and patient does,' approach, the model is now a working partnership between the entities.
What facilitates this shift without overburdening HCPs is the digital transformation of an organization's patient-facing touchpoints.
The COVID-19 pandemic has put unprecedented pressure on every aspect of healthcare organizations; particularly emergency rooms, intensive care units, and call centers. Many organizations moved to adopt digital tools such as remote patient monitoring systems, telehealth appointments, virtual COVID-19 screeners, symptom checkers, and on-demand Q&A services.
Implementing these tools enabled many healthcare organizations to stay afloat throughout the pandemic and prioritize urgent situations without sacrificing holistic care for other, non-emergent or chronic patients. Those who did not adopt though, were faced with even greater challenges.
In Orbita's recent webinar, Panda Health CEO David Harvey explains: "Maybe 10 to 15% of health systems around the country have a digital transformation strategy and roadmap and they're executing it, but I would still say 85 to 90% don't. And so, when they're faced with a challenge and they don't have a plan, they fall by the wayside."
Poor call center experiences are at the heart of the problem with underlying issues such as a lack of data integration and disjointed systems leading to patient frustration and sometimes departure. 26% of patients report having contacted a health system over the phone only to be transferred (often more than once) without resolution.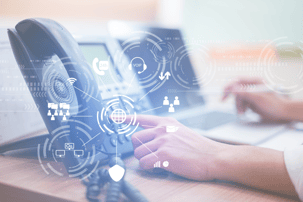 To take a more active role in their own healthcare decisions, patients need more information and alternative ways of discovering and navigating care remotely, and sometimes, independently.
An automated Interactive Voice Response (IVR) system powered by conversational AI technology creates efficiencies by containing, appropriately routing, and completing a significant portion of today's live phone call volume.
Beyond pre-recorded messages and menus, Orbita's natural language processing (NLP) and machine learning technology can understand unique and often complex queries to dynamically engage with patients.
24/7, on-demand access to this information cultivates an informed and satisfied patient base. For even greater efficiency, Orbita's "bust-in" feature enables the caller to interrupt the system to re-direct the conversation with additional information or ask new questions altogether.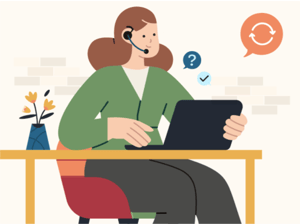 Automating this communication supports call center staff by fielding front-line queries. Sentiment analysis produces a seamless escalation process to live agents when required, and even produces a transcript of the automated conversation to enhance the transition. This intelligent routing can maximize a healthcare call center's productivity and reduce costs.
Additionally, Orbita's Adverse Event Detection module augments IVR capabilities by detecting and assisting in reporting of adverse events. In the pharmaceutical industry, this greatly reduces administrative burden and increases reporting efficiency. Analytics
In the same recent Orbita webinar, Healthbox President (and HIMSS EVP) Neil Patel notes: "It all comes down to a challenge of communication. You know, some of the best surgeons are the ones that make phone calls afterwards or reach out via text or what have you, so it's how do you scale that experience. Digital is a perfect tool to do that."
This is exemplified in intelligent, automated IVR systems.
This balance of digital tools with live agent escalation gives more autonomy to patients in their care journey. Not only does this support healthcare providers through the challenges of this pandemic, but it also perpetuates the shift to patient-centric care.
"We are at a reckoning with technology right now where its flexibility and intelligence allow different populations to engage in modalities that are natural to them." -Kristi Ebong