In the thousands of hours each year where patients are not in the direct care of their healthcare providers, they are expected to maintain and manage certain aspects of their care journey. These aspects can include keeping up with medications, routine screenings, physical therapy, tracking symptoms, and more.
Care plan adherence is complex; it depends on the patient's understanding of their treatment, their ability to remember the steps, and their motivation to consistently follow through with their care plan.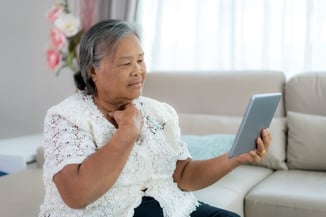 From a clinical perspective, it is a challenge to educate and empower patients to effectively follow treatment guidelines from home. Roughly 60% of patients turn to the internet to acquire further information about symptoms, medication administration, and other treatment options, which brings them to a vast pool of unregulated information with loads of unreputable sources. It can be challenging to weed out the desired content, and since a webpage does not know the unique context of the patient searching, it could give unhelpful or inaccurate advice.
This is where conversational AI technology provides an accessible and reliable source to support patients virtually.
Let's talk about pre and post-operative scenarios. Before surgery, a patient is expected to adhere to certain restrictions. Their ability to do so could affect the success, safety, and overall outcome of the procedure. While placing the patient at a higher risk for adverse events, nonadherence to these care plans also results in wasted money, time, and energy for patients and providers alike. A virtual assistant could nudge the patient to follow the proper preparation and recovery guidelines through direct and interactive messages. Fasting is a common request before surgeries to prevent nausea and complications if the food were to enter the lungs while under anesthesia. Avoiding blood thinners, such as Advil, is also a typical guideline and could result in prolonged bleeding if ingested before surgery.
Once discharged after the procedure, patients are supposed to continue with their recovery plan, which may entail taking medications, exercising, or monitoring symptoms. Importantly, inadequate post-discharge support and insufficient follow up are the main contributors to readmission rates that fluctuate between 13%-20% every year. A virtual assistant can provide education and reminders to guide a patient through their post-op recovery plan: improving outcomes, reducing the risk of further complications, and improving the efficiency of the healthcare system.
The following is an example of how Orbita's virtual assistants can support patients on their virtual care journey from start to finish in a surgical context. Follow John, an orthopedic patient in need of a hip replacement surgery, through his care journey with OrbitaCONNECT below.
Two Weeks Before Surgery
John's healthcare provider sends an SMS message to his mobile device. From this outreach, John now has access to this conversational tool for reminders, preparation instructions, and answers to any questions.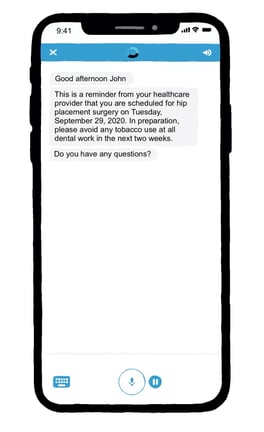 One Week Before Surgery
Another SMS is sent to John's cell phone to continue supporting him remotely. This time, his healthcare provider delivers educational content containing the expectations for the procedure, further preparation guidelines, and another reminder of the appointment date.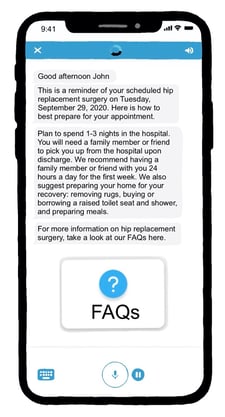 One Day Before Surgery
With surgery in 24 hours, John receives several more reminders to ensure he follows the proper pre-operative instructions. John can also ask some more clarifying questions here.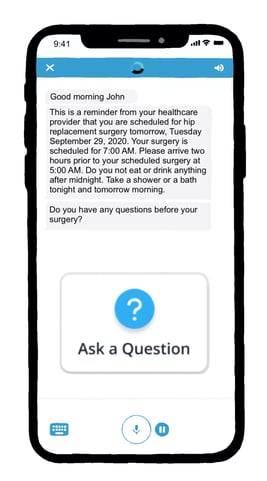 One Day Post Surgery - At Home
John has been discharged but is still at risk of developing blood clots or an infection. To monitor John's recovery, his healthcare provider initiates another conversation in which the virtual assistant prompts the patient to assess his symptoms. He is checked for various symptoms like experiencing signs of a fever, cough, hip pain, the severity of the pain, as well as any drainage from the wound.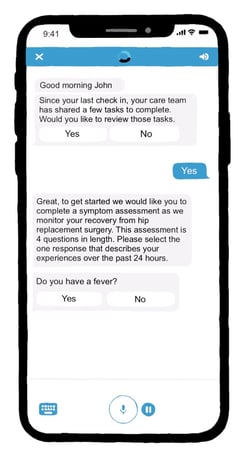 Two Days Post Surgery - at Home
Depending on the patient and results from previous symptoms assessments, further questioning may be conducted to more carefully monitor signs of infection. This could include guiding the patient through collecting their vitals with wearable Fitbit or iHealth platforms. Orbita can collect this data and report it directly to the healthcare provider's systems. John is also reminded of other recovery steps, such as moving around for several minutes each day.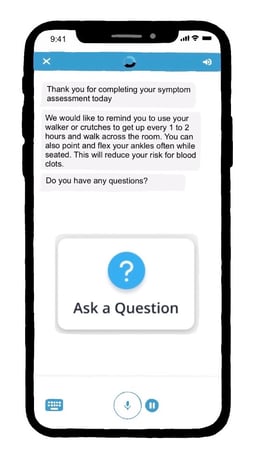 One Week Post Surgery - At Home
Now that John has successfully followed his post-operative care plan for one week, he is at a lower risk of infection and blood clots. Since the virtual assistant knows the full context of his care journey, it can suggest a list of physical therapists and their availability. This easy access to scheduling ensures John stays on track with his recovery plan of improving his range of motion in his hip and regaining his strength.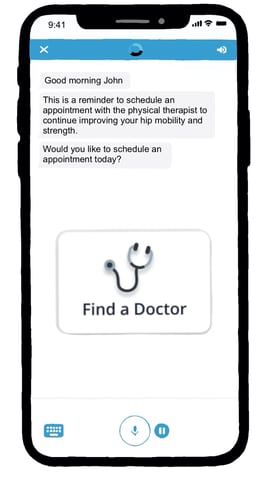 ---

Want to learn more about how Orbita can help your virtual care and remote patient monitoring efforts? We'd love to hear from you.