Many of the articles and stories comparing the power and effectiveness of chatbots with live agents are inconsistent and sometimes even polarizing. Some say that consumers fear an ever-increasing reliance on technology in place of humans, while others believe AI-powered virtual assistants are a necessary addition for efficiency and scalability as we move further into the digital realm. What it comes down to is personal preference, which is unlikely to be exactly the same across various consumer and patient populations - especially because consumers have shown that they want access to both types of engagement.
There is a large range of attitudes towards AI in general with the varying results influenced by age, sex, access to technology, and more. A Forbes article stated that 86% of consumers prefer to interact with a human agent, and NCBI's study of AI-led health chatbot services showed a 67% moderate acceptability among consumers. An additional study of physicians' perspectives demonstrated a wide variety of opinions towards chatbots in healthcare - ranging from positive to negative. Many physicians recognize the crucial role chatbots play in reducing clinician burden while supporting and coaching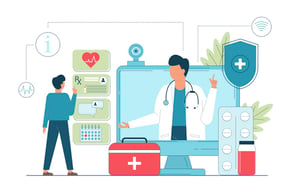 patients, but many also express concerns about chatbots' inability to connect emotionally with patients.
This range highlights the need for a solution to support the preferences of each consumer, whether that is engaging with an intuitive chatbot or a live agent - it truly depends whom you are asking and in what context.
Some healthcare organizations require hundreds of live agents to support the scope of remote patient care, which is a costly effort. Many organizations have recently introduced and adopted virtual assistants more widely, which have proven to be successful in reducing significant burdens around scheduling, question-answering, and general remote patient support. The convenience of an intelligent chatbot should not be overlooked, but while powerful, chatbots are not omniscient and are often unable to think out of the box. Without creative thinking, problem-solving is limited to what the chatbot is programmed to know and respond to.
Orbita's ENGAGE digital front door solution enables virtual assistants and live agents to work in tandem, each filling in various gaps in the patient journey that the other may not be able to support.
When a patient arrives at your website, a virtual assistant will immediately greet them and offer guidance to online resources and ways to navigate. This type of chatbot makes tasks such as scheduling an appointment or finding a location to receive care more easily accessible. The chatbot can collect verifying information on the patient's identity to provide an authenticated experience, in which the assistant accesses the patient's profile in their healthcare provider's electronic records. This enables the chatbot to factor in patient context to provide personalized and unique support for the user.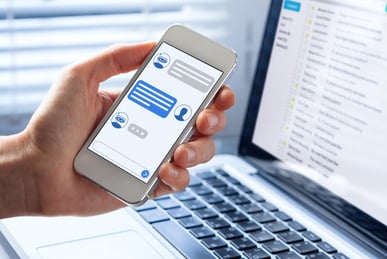 To bolster effectiveness and personalization, Orbita's solutions are programmed with sophisticated question-answering AI technology powered by OrbitaANSWERS.
With this advanced technology enhancement, healthcare providers can now program their chatbot to understand a variety of natural language queries. Now, there is a higher chance that the chatbot can connect the consumer with the answer and information they need - no matter how the question is posed.
While this virtual assistant can successfully support roughly 96% of patient requests, the remaining 4% of queries require further communication with a live agent. Instead of losing this user as a patient or leaving them unsatisfied, a seamless and intuitive handoff from chatbot to live agent will be initiated.
Using the same chatbot as the primary communication channel, a live agent will enter the conversation and begin communicating with the patient. There are several ways how the chatbot can be programmed to trigger this handoff; the most common one is when a patient says they would like to speak to a live agent.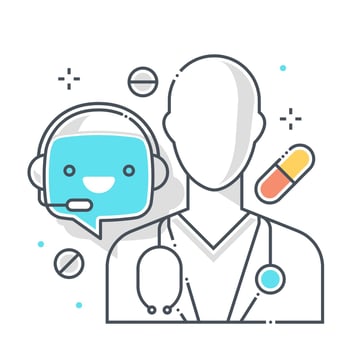 Another option is to classify specific phrases or words as red flags to indicate to the chatbot that this is an urgent situation requiring human interaction. An example of these 'red flag' utterances would be if a patient tells the chatbot they are having an allergic reaction or think they might be having a heart attack. These are scenarios where a chatbot is not going to be the most supportive and efficient resource in delivering care to this patient; unexpected and urgent situations require a human's quick understanding and direction.
To improve this handoff, the virtual assistant will create and deliver a transcript of its interactions with a patient to the live agent. With access to a transcript, the live agent is able to quickly get up to speed with the context of the conversation. These transcripts also provide healthcare providers with records of these engagement touch points throughout the patient's virtual care journey.
As chatbots grow more and more intelligent, there is less need for healthcare organizations to use hundreds of live agents and continue maintaining high-volume call centers. Patients' growing preference for convenience is encouraging healthcare organizations to explore and advance virtual assistants, while patients who prioritize human communication in their care journey will continue to rely on access to a live agent.