In the search for digital health solutions, there are numerous considerations for organizations. Typically, the purpose of these tools is to enhance the delivery of medical services, education, and products to patients while creating meaningful impacts and clinical efficiencies.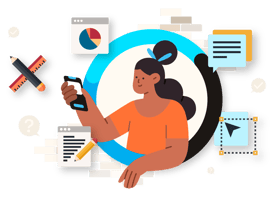 A platform solution offers a robust foundation to create and customize strategies and functions to achieve these goals. The extensibility of a digital platform is one of its greatest assets.
So, why should you focus on third-party integrations?
The next consideration is where the data comes from and how to manage and utilize it with a platform.
It was an estimate that there were as many as 2,314 exabytes of new global healthcare data generated in 2020.
Fun Fact: An exabyte is so large that it would take about one million powerful home computers to store this amount of data.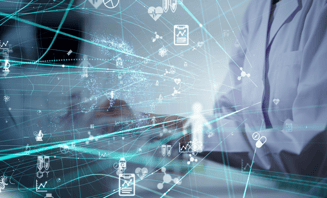 Integrating with third-party systems, such as electronic health records (EHR) or customer relationship management systems (CRMs), enables organizations to push and pull data into and out of the platform functions. Using various communication methods with applications - application program interfaces (APIs), Hypertext Transfer Protocol (HTTP), and more – platforms can utilize existing features instead of reinventing the wheel with entirely new code.
While these third-party applications can add features, functions, and efficiency to your organization's virtual experiences, it is often easier said than done to integrate them quickly and seamlessly.
Leveraging Integration and Third-Parties with Orbita's Platform
Orbita's platform empowers non-technical business analysts, designers, content managers, and more to design, manage, and optimize virtual healthcare assistants with
1. A low-code environment to develop and design conversational experiences
2. Out-of-the-Box features that work immediately after integration or installation without configuration required to increase time to value
3. A drag and drop interface that simplifies the design process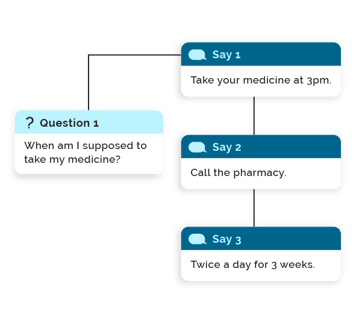 Seamlessly Create Conversational Efficiencies for an Improved User Experience
These platform features allow for the seamless creation of a variety of conversational experiences.
A relatively simple example would be a chatbot that sits on an organization's website. While users schedule appointments, ask questions or utilize resources through this interface, the platform captures each action as a piece of data. This data is then pushed (via API, HTTP, or other mechanisms) to a CRM system where it is stored, organized, and pulled back in to offer a contextualized experience for that user next time.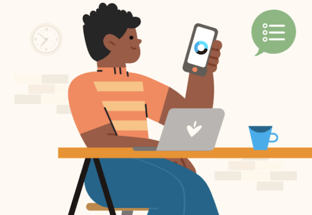 A more complex example of third-party integrations would be in remote patient monitoring experiences. There is an incredible amount of data that is pushed and pulled within those experiences, whether collecting vitals, measuring pain levels or just checking in on the patient's care journey. Orbita works hand in hand with remote patient monitoring systems to simplify the various pieces of the experience that require third-party integrations.
Consider a patient with chronic obstructive pulmonary disease (COPD) - a healthcare organization could build a conversational experience that would notify the patient to record their blood oxygen levels at home. Healthcare systems can do this through wearable devices, such as Apple or Samsung watches, which have a pulse oximetry feature. The data could be collected from the device and, through several secure integrations, passed directly to the organization's electronic health records (EHR). The connectedness of this experience creates significant efficiencies in engaging and monitoring patients out of the typical clinical care settings.
In Summary
There is a lot of data available today, particularly in healthcare, and harnessing that data can enhance conversational experiences for patients. Third-party integrations are an efficient way to push and pull data to and from the experiences on an informal platform, but these integrations can be challenging. Orbita delivers an enterprise-ready platform that simplifies and supports healthcare organizations to create virtual health assistants with seamless third-party integration features.