"That is where the dots are connected. Automated solutions have a challenge, which is engagement – keeping patients engaged in the experience, and our assertion is that conversational AI bots take the interaction to a different level to solve that challenge of engagement." -Nate Treloar, Episode 5 of Conversations with Orbita podcast
In the U.S., about six in ten adults struggle with some sort of chronic condition such as cancer, diabetes, asthma, and more. Even further, four in ten adults have two or more chronic diseases. Managing these conditions is challenging for patients and providers due to many factors, including a patient's ability to stay adherent to their plan of care and their providers' ability to proactively collect relevant data and health information while the patient is not physically inside the healthcare organization.
For Healthcare Providers (HCPs)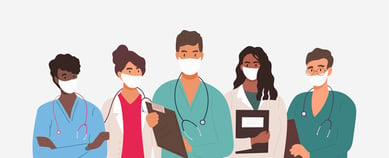 From a clinical perspective, juggling a full schedule of in-person visits while delivering continuous support and monitoring to all other patients is nearly impossible.
Unfortunately, chronic diseases are the leading causes of illness, disability, and healthcare utilization in the United States, largely linked to patient adherence. To minimize the risks associated with these conditions, proactive outreach and predictive monitoring between visits are essential.
Healthcare organizations face a high financial burden around managing patients with chronic conditions. This in itself creates a strong incentive to introduce solutions and programs that can preemptively engage patients in ways that help improve outcomes and reduce costs. The costs associated with chronic care treatment and mental health conditions amount to 90% of the $3.5 trillion annual expenditure in U.S. healthcare, according to the CDC. One study found that the risk of preventable hospitalization increases by a factor of 1.35 for each additional chronic condition.
"Across the continuum of patients that have chronic diseases, patients are trying to figure out how to manage their conditions and clinical care teams need automated assistance to help patients gain better literacy about their condition and better adherence to the disease management program in which they find themselves." -Jeff Haggard, Episode 5 of Conversations with Orbita podcast
For Patients

Chronic conditions can affect all aspects of a patient's life, including financial health (related to treatment costs), emotional and mental health, and physical health. In addition to these dynamic (and often disruptive) changes and impacts, patients often find themselves simultaneously learning about their condition, managing new treatments and/or medications, and adopting their lifestyle and routines - while at the same time trying to stay motivated to adhere to their care plans.
The influence of cost on patient adherence and the subsequent risk factors are prominent obstacles around patients successfully managing chronic conditions. A study of cost-related non-adherence (CRN) and mortality in patients with a chronic disease found that patients who experienced CRN had 15% to 22% higher all-cause mortality and 8% to 18% higher disease-specific mortality than people who did not experience cost-related non-adherence.
Affordability is a huge barrier in chronic care management, but so is limited knowledge or understanding of a condition and the benefits of adherence. 39 percent of patients stated that they only feel up to "somewhat knowledgeable" about how to effectively pursue their chronic care, and close to 60 percent admit that they are probably not doing everything they should to manage their health.
These sentiments speak to a model of care that is not built with the patient at the center. Episodic touch points and reactive communication are not conducive to holistic care delivery for chronic disease patients.
This is where a digital transformation of how and when HCPs approach patients could not only improve outcomes, build patient confidence and adherence, but also reduce burdens around costs and time for HCPs.
"One of the ways that we do things differently at Orbita around our use of virtual assistants is not just to treat them as a door through which a patient can choose to walk through, but also treat them as a way for our clinical partners to proactively reach out to patients and call them to action." -Jeff Haggard, Episode 5 of Conversations with Orbita podcast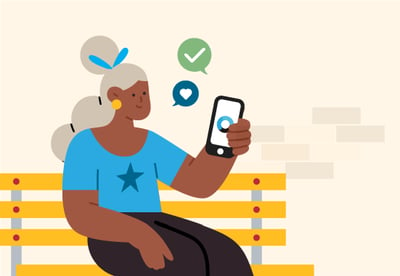 Orbita's virtual assistants empowered by conversational AI enable healthcare organizations to proactively deliver news, reminders, and other resources directly into the hands of patients through automated campaigns. Anticipatory reminders and educational reinforcement can help healthcare organizations get ahead of non-adherence and declining motivation.
How does this solution reach more patients? Orbita supports multi-channel patient outreach, achieving a higher patient engagement rate than traditional single-channel solutions. The ability to reach a patient on their preferred device adds that extra layer of personalization to the care journey and reduces friction for the patient.
This outreach is one piece of a digital front door strategy that transforms one-way care communication into interactive and meaningful multi-directional information exchange by permanently opening a door for patients to access a wide variety of resources. With a defined, easily-accessible path to question-answering services, scheduling, and symptom-checking, patients can have the digital tools they need at the start of their care journey to achieve success.
"When patients become non-adherent, the monitoring clinical teams spend a lot of time trying to figure out why. Cascading conversational campaigns can reach patients early to encourage them in a very human-like way to do the things the care team wants them to do." -Jeff Haggard, Episode 5 of Conversations with Orbita podcast