We live in a new world. The novel coronavirus, or COVID-19, has put unprecedented pressures on our healthcare systems and on our society as a whole. And, while it may not feel like it, the pandemic is still in its early phases and we continue to learn more about it each day. For example, many experts, including those in the United States Coronavirus Task Force, have made preliminary statements about COVID-19 being a seasonal virus that may be with us for the foreseeable future.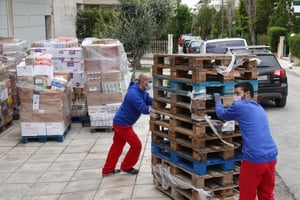 As the pandemic evolves, we are also witnessing how it is impacting workplaces. Hospitals and other healthcare organizations are the most obvious organizations facing profound challenges in the workplace due to COVID-19, but it poses threats to any employer with a sizable employee population.
Supermarkets, manufacturers, delivery and transportation services, and other essential employers are struggling to keep up with the demands of customers while managing and monitoring the health of their employees. Even the corporate world is not immune to the threat. A conference at a Boston hotel attended by executives from a major biotech firm in late February was identified as a potential "superspreading event" resulting in the spread of COVID-19 to the broader community in Massachusetts and beyond.
Incidents like the Boston event and general awareness about the threat of COVID-19 to employees, families, and communities has led to widespread work-from-home policies and strict at-work health safety procedures. It's also become increasingly clear that we must be proactive about developing tools that can continually monitor and manage those who may be sick and those who may have been exposed. At least, until we have effective therapies and a working vaccine. More recently, OSHA has released new enforcement guidance for ensuring workplace safety related to COVID-19.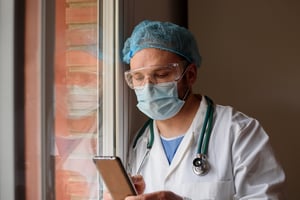 On top of their other efforts, some innovative organizations are turning to chatbots as a way to provide COVID-19 health-related support to their employees. Chatbot "virtual assistants" can answer common questions, perform basic screening, and recommend appropriate resources and services through intuitive easy to use interfaces. Because they are accessible over commonly used devices, they can be used by people with varying degrees of digital literacy and from the comfort and safety of home. They also help to offload the significant burden being placed on stressed call centers operations.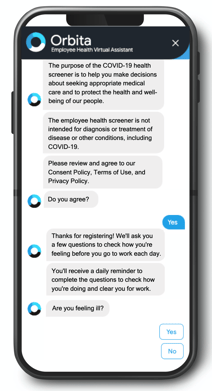 Medtronic, the global leader in medical technology and an innovator in digital healthcare, rapidly mobilized resources to deploy its own chatbot to respond to COVID-19. Supported by Orbita's conversational bot platform, Medtronic developed and launched a robust chatbot designed to evaluate and monitor potential COVID-19 symptoms of its employees and their dependents within U.S. & Puerto Rico. With plans to offer this monitoring solution to its large employer partners, Medtronic is laying the foundation for a virtual assistant solution that can engage and support millions of employees across the world and potentially help slow the spread of COVID-19.

"We developed the chatbot to go beyond a basic one-time screening tool. We saw a need for a solution that employees can use to both regularly check their symptoms and access the resources they need to ensure they are staying safe and healthy at home," said Arun Ramasubramanian, VP, R&D/Technology & Innovation with Medtronic Care Management Services. "Longer term, we also see the bot supporting employees returning to work and helping manage health and safety in the workplace."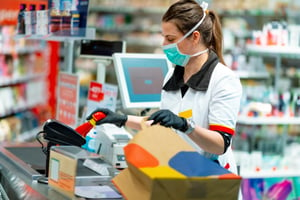 As the world continues to battle COVID-19, it's critical for all of us to think about what the new normal will (and should) look like. In the words of Dr. Anthony Fauci, Director of the National Institute of Allergy and Infectious Diseases and lead expert in the United States Coronavirus Task Force, the best solutions for combating the current phase and potential future shockwaves of this virus will be identification, isolation, and contact tracing. Chatbot solutions provide an effective and scalable way for organizations to automate aspects of monitoring the safety and health of their employees and their business throughout all phases of the pandemic.
---
Orbita's COVID-19 Employee Health Manager supports employers as they screen, monitor, and manage their employee population. Deployed across web, chat, SMS, and phone, the solution helps organizations triage and navigate employees virtually to support the healthy but worried, at-risk, and symptomatic populations while keeping staff safe and capacity manageable.