In light of the current COVID-19 pandemic, health systems are being flooded with worried patients who are concerned they may have the virus, as well as symptomatic and at-risk patients who are unsure whether they should stay home or be seen by a provider.
Due to highly contagious nature of the virus, the Centers for Disease Control (CDC) has called for the use of telemedicine and other technology to scale front-line response. As we adapt measures to "flatten the curve," it's incredibly clear that technology plays a massive role in how we respond to this unprecedented public health threat.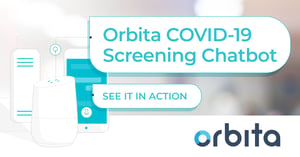 Step 1: Screening
Screening and testing are currently major challenges, and patients need screening to know if testing is necessary. Orbita's screening chatbot supports front-line response by reducing call center burden and unnecessary clinic and ED visits, which create dangerous exposures.
This provides patients with a simple tool to help research specific symptoms, providing self-service education for the "worried well" patients while giving specific support to the symptomatic and at-risk populations. Available via web, phone or text message, this functionality is available on most channels, to ensure accessibility for all, even for the aging population most at-risk who may not have access to chatbots.
Step 2: Navigation & Patient Education
Once a patient is screened, if there is a need for them to be seen by a healthcare professional, the chatbot guides them through the appropriate next steps. If they do not currently need to be seen, the chatbot supports the individual by providing specific patient education about the virus and how to stay safe during this pandemic.
Orbita is also providing wellness checks for providers to use in checking in on specific patient populations, those with existing scheduled visits, and those with symptoms that require frequent at-home monitoring.
In this unprecedented and stressful time for the healthcare system and society, this seamless technology is a powerful key to flattening the curve.
Kristi Ebong, MPH, MBA is the SVP of Corporate Strategy at Orbita, and Nina Kandilian, MBA is the Director of Product Marketing & Strategy at Orbita