My first six weeks as CEO at Orbita have flown by! I am so energized and excited about the extraordinary work Orbita is doing to streamline workflows, simplify access, and enhance connections - making "doing business" in healthcare easier.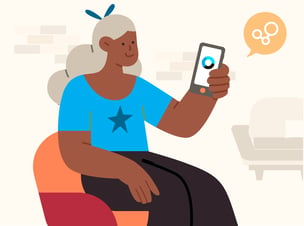 For those of you who don't know me, I have worked in the healthcare industry for over 30 years, striving to improve patient, employee, provider, supplier, and institutional experiences. I have developed and sold products and services that capture and mine patient, employee, clinical, and operational data to identify friction points and ways to address those trouble spots. It is now exhilarating to work for a company that can actually deliver real solutions to solve these vexing problems.
Orbita's conversational AI products and services are the future of how healthcare can (and should) be delivered. Imagine:
24/7 access to healthcare questions/answers

the ability to schedule an appointment whenever you want

effortless completion of paperwork

clear understanding of treatment protocols

simple prescription ordering

easy bill payment

discreet outreach to check on your health needs

escalation to a live person to answer questions if needed
…all through the channel most appropriate and comfortable for you – text, email, chatbot, voice. Orbita's solutions make the process easy, simple, and satisfying!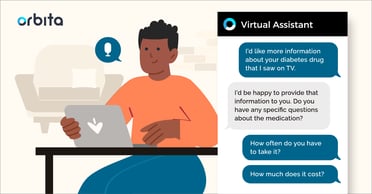 Orbita's intelligent virtual assistants meet patients and providers where they are to help them better navigate and manage encounters across the entire healthcare journey. Orbita delivers a comprehensive platform for healthcare and life sciences to address all the moments that matter, saving time, reducing costs, improving outcomes, and resulting in a better experience for everyone.
Using low code/no code templated flows, clients get up and running quickly. We easily integrate with your system of record (EHR, CRM) to extend your reach and ability to measure return on investment. Orbita Detect is our natural language processing (NLP) AI learning how people talk (utterances, phrases, slang), allowing our solutions to improve and adapt. As a result, we deliver Automation with Empathy™, a human-like experience that helps humans focus on more critical tasks – like caring for patients!
Today, the healthcare industry is at an inflection point regarding the use of AI to automate workflows and enhance virtual consumer engagement and management of health. Orbita is uniquely positioned to deliver virtual interactions that make life easier. I am honored to have the opportunity to lead Orbita's growth and development. Please reach out to me if you have ideas, suggestions, or ways to work together. Let's have fun making a difference.