On January 3rd, 2022, a record 1,080,211 cases of COVID-19 were reported in the U.S. - the highest one-day tally of new cases anywhere in the world.
Accompanying this surge is a demand for COVID-19 testing. On January 8th, the number of daily COVID-19 tests administered in the U.S. spiked to a record of nearly 2.5M with a positive rate of >25%.
Health systems processing COVID-19 tests are struggling to promptly notify patients of their results. Patients are increasingly met with messages like this one: "Due to the increased volume of testing, results typically available in 24-36 hours may be delivered in 36-48 hours at this time. Getting results via phone can take 1-3 business days."


Are COVID-19 testing demands overwhelming your system?



Reduce call center burden
Orbita is reducing the burden on healthcare organizations by automating communication of COVID-19 test results to thousands of patients and employees each day – as often as every hour. This automated outreach begins with an email, shortly followed by an SMS, and, if necessary, an automated phone call.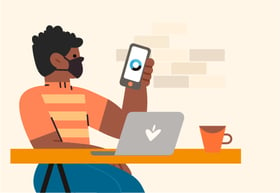 Improve patient experience and satisfaction
From this outreach, patients gain access to an intelligent virtual assistant that delivers their COVID-19 test results in up to 108 different languages.
Watch the video above for an example of a positive test notification, accompanied by instructions for isolation, home care suggestions, a link to the CDC guidelines, and additional resources like telehealth visits and a nurse support line.
Patients can explore these resources within the virtual assistant or request more information be sent via email, which may include guidance on quarantine, care information, symptoms requiring emergency medical treatment, telehealth availability, and return to work options.
Automated outreach with an intelligent virtual assistant reduces the risk of negative outcomes and further spread of the disease with personalized test results delivered within minutes of results received.
Contact Orbita to learn how to streamline COVID-19 test communications!