When it comes to designing, developing and maintaining conversational experiences, there can be many chefs in the kitchen.
Early in the project, Voice User Experience Designers play a significant role working to create intuitive and innovative products people love by defining prototypes, designing specifications, and writing prompts and dialogs.
Graphic Designers have an important role in creating omni-channel conversational experiences given the function screen-based devices have in a "voice first but not voice only" world.
Developers work to architect, design, and implement new features to deploy through various conversational channels.
Since designers often rely heavily on their developer counterparts to build conversational experience workflows and logic, there are often dependencies that present significant bottlenecks in the overall development process; as such, there's great potential for a user-friendly and visual workflow application builder to bridge this gap and reduce bottlenecks and burden on the development team.
A promising solution for this dynamic is to provide a less technical application for creating workflows, such as Orbita's recently-released Flow Studio.


About Orbita's Flow Studio
What is Flow Studio? Orbita Flow is an intuitive, graphical studio with a flowchart-like interface for creating rich, conversational applications. With Orbita Flow's low-code environment, anyone can quickly build powerful voice and chatbot applications using ready-made controls and pre-built templates. Orbita Flow adds to Orbita's already rich set of tools for accelerating creation of voice and chatbot-powered healthcare applications.
Flow Studio by Orbita reduces bottlenecks and provides designers and content authors with the ability to create and manage conversational applications through its intuitive drag-and-drop visual editor. The Flow Studio visual application builder was created with these less technical users in mind and requires no development expertise.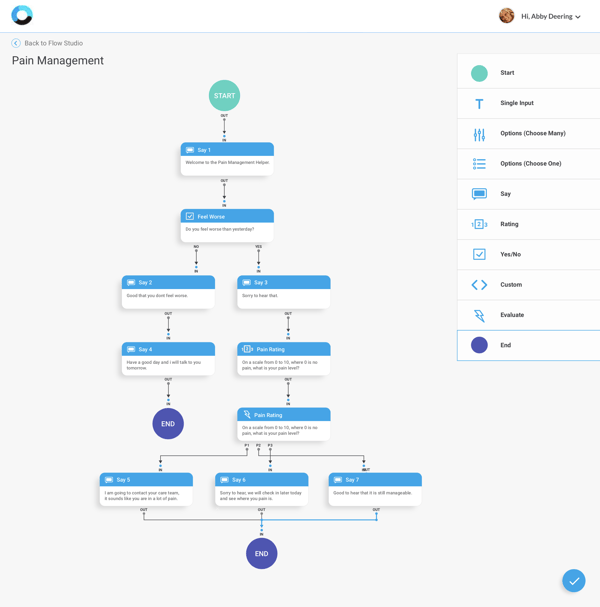 When an organization's UX designers and content authors are empowered to develop conversational experiences and workflows without requiring the support of their developer counterparts, their development team can devote time towards building more advanced integrations and capabilities.
If you've created a flow chart (using a tool like Microsoft Visio™), then you likely have enough technical experience required to create a robust, engaging conversational experience. "If you can draw it, you can hear it."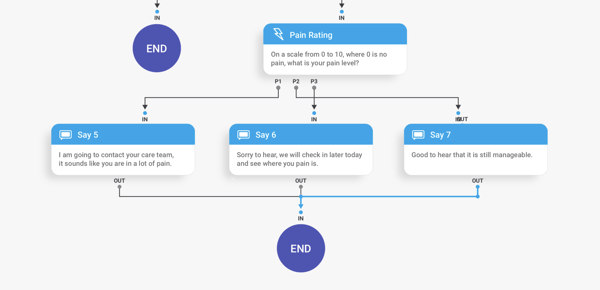 We understand how complicated it can be for teams of varying degrees of technical expertise to develop conversational experiences and workflows in an efficient way.
Talk to a voice strategy expert from Orbita today and learn more about how Flow Studio can help your organization build conversational applications.