One of the most precious resources in healthcare is time - not just the time of healthcare providers but also patients. The productivity of a healthcare organization's scheduling system can either protect or impede this time.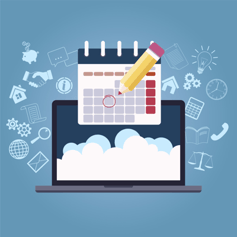 There are several significant consequences on the continuity of care from poor scheduling experiences, including high patient no-show rates and delays in treatment or diagnoses. These not only jeopardize the health of patients but also waste healthcare providers' money and time.
Consider this: One study found that patient no-shows cost the U.S. healthcare system more than $150 billion a year and individual physicians an average of $200 per unused time slot.
Often, patients' only option to book an appointment is to call the practice's front desk, resulting in phone tag, delays, holds, and frustration as both parties manually sift through and align schedules. Many have recognized that patients do not respond well to this scheduling experience since they aren't designed with the patient in mind. For instance, most front desk hours have active staff members between the typical workday hours of 9-5, and patients who work those hours are severely restricted in when they can call.
Today, consumers want to schedule medical appointments similarly to the way they book dinner reservations or schedule an Uber. Digital health tools can deliver that experience while resolving two of the main scheduling challenges:
1. Engaging and encouraging patients to book an appointment.
2. Efficiently securing and confirming the appointment.
On top of the obstacles traditional phone scheduling presents for patients, healthcare organizations now have to contend with the backlog of millions of delayed or canceled appointments from the COVID-19 pandemic. With 42% of the U.S. population fully vaccinated, healthcare organizations urge patients to return for elective procedures, annual appointments, and preventive screenings.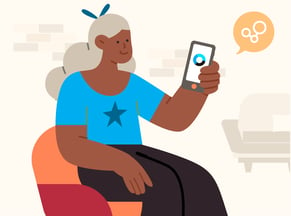 Orbita can help improve appointment scheduling processes in various ways, beginning with Orbita Outreach, which enables healthcare organizations to automate patient outreach to remind, educate, and empower patients to take control of their health. Cascaded across various channels, these messages improve patient engagement and retention with a comprehensive communication strategy.
Combined, email, SMS, and phone conversational campaigns have delivered a 22% increase in engagement and conversion while reducing internal manual activities.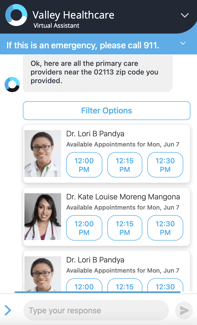 These messages activate patients to engage with a contextualized chatbot experience to access appointments. This self-service digital tool is on-demand and allows patients 24/7 access to their provider's scheduling system.
What distinguishes this scheduling process from other digital ones - where patients request appointment times and then wait for confirmation - is the third-party integration with the provider's calendar. This integration enables the chatbot only to produce the time slots when the healthcare provider is available and stay up to date with changes in their schedule. Once a patient selects their desired time, there is no wait, and a calendar invite is sent directly to both patient and provider for confirmation.
This scheduling system not only protects patients' time but also alleviates scheduling burdens on healthcare organizations. By removing friction in booking appointments, patients are more comfortable engaging with healthcare organizations and are more likely to follow through with scheduling and attending these visits.