Managing costs and capturing revenue are top of mind for providers amidst current industry dynamics. Escalating expenses took their toll on hospitals and physician groups again in June, producing negative operating margins for a sixth consecutive month. To compensate, leaders are focusing on patient activation in ways that translate to more appointments and revenue.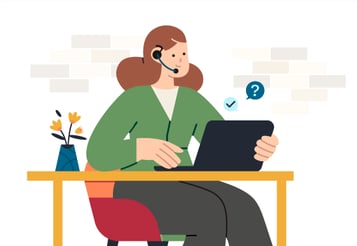 The problem is...manual patient outreach consumes significant resources and, too often, returns disappointing results. Our clients report that when clinical staff is tasked with reaching out to patients, they typically connect with less than 30% on the first try. This leads to unproductive and frustrating telephone tag: patients and staff often need to leave two or more messages before they actually connect live. Outreach efforts are complicated by labor shortages and burnout, leaving fewer staff members to contact patients.
In a recent webinar hosted by Fierce Healthcare and Orbita, Dr. Raghuram Reddy from Ohio Gastroenterology noted that, "Traditionally, medical practices have relied on phone calls to reach patients but, as it turns out, most people don't answer their phone...We were making about 40,000 calls each month."
Automation and virtual assistants provide a critical answer to challenges like these. One Orbita client, for example, saves about 520 staff hours a week (equivalent to 13 FTEs) and has increased patient response rates from less than 30% to more than 70%.
Many organizations have adopted some level of technology to better connect with patients – email automation through a CRM, for example. But these efforts still have not been optimized for maximum engagement. Solutions to date have been limited because outreach typically occurs across a single channel per campaign and the campaigns require the patient to take multiple steps, like calling the office to schedule the appointment.
The next-generation of digital-first solutions are designed for greater patient convenience – and built with healthcare's business needs in mind as well. They can help providers drive patient acquisition, capture revenue, reduce costs, and improve patient compliance with protocols and care. To achieve these results, healthcare organizations should look for solutions that:  
Offer seamless integrations with existing systems of record such as the CRM, EMR and call center software;

Reach patients on the channel of their choice to deliver personalized, conversation-friendly dialogs that prompt patients to take the action required (e.g., schedule appointment); 

Escalate to a clinician through asynchronous or synchronous chat, phone, or video calls.

Support a wide range of clinical and marketing use cases ranging from care reminders, appointment scheduling, delivery of test results, medical device updates and more.
Orbita's Patient Activation and Outreach drives higher levels of patient engagement and response. Out-of-the box and low-code campaigns and outreach programs can be delivered via any device and enable organizations to implement a cascaded communication strategy. We have increased our client's patient engagement rates by an average of 11-15% when cascading across multiple channels.
Here are the successes clients have achieved: 
Care reminders: One of the largest oncology centers in the U.S. recognized the inefficiencies in its after-hours support workflow – which was 100% phone-based and required multiple steps for patients and contact center agents. Working with Orbita, this health system is implementing an omnichannel outreach program to deliver educational information and resources to patients throughout their treatment.  
Appointment scheduling: A gastroenterology practice in the Midwest uses Orbita to deliver automated reminders with important procedure prep and arrival instructions, freeing clinical staff from administrative work so they can focus on clinical tasks. Not only does this outreach help ensure patients scheduled for appointments show up, but leaders also estimate that one additional patient per provider per day results in a revenue gain of $4 million annually.  
Medical device updates: A global medical technology company implemented the Patient Activation and Outreach solution to confirm over 1 million patients' mailing address prior to shipping out their new device. This digital-first approach enabled the company to reduce the number of devices that were shipped to an old address, in turn reducing shipping and lost device costs by roughly $500,000-$750,000 in the first 12 months of the program.  
We'd love to tell you more about how your organization can schedule more patients, capture more revenue and operate more efficiently.