This year, Google Assistant will become the main voice search method in the Chrome browser. This changeover from the current voice search method represents one of the last major Google products to incorporate Google Assistant.
Better and more accurate voice experiences = more voice searches
Originally introduced by Google in 2011, voice search was once a novelty and cool new trick— but not much of a threat to regular typed keyword search due to its high inaccuracy rate. However, the significant improvements in speech recognition technology and rise of natural language queries have made voice search a force to be reckoned with when it comes to getting information.
According to Mary Meeker's Internet Trends 2018 report, voice technology has hit 95% accuracy, which is on par with human speech recognition. Better voice experiences mean more voice searches— today, half of all online searches are made through voice.
People like to use their voice while searching for information because it's easy and comfortable. Voice search inherently uses natural language and enables the searcher to just ask questions as they naturally would. It's also hands-free and skips the need for browsing and navigating screens. Also, if we're talking ergonomics— the size and design of today's mobile devices makes it much simpler to ask questions out loud than typing. A recent Hitwise report found that nearly 60% of voice searches are made through a mobile phone.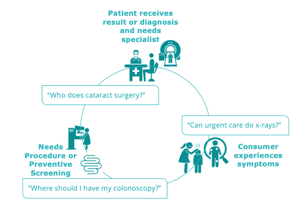 Going beyond voice to provide context-rich resources
Powerful virtual assistants like Google Assistant not only process voice search, but they also take the consumer's context into account— making the search results richer and more likely to help the consumer address and solve their needs. For example, if a user asks "Can urgent care do an x-ray," Google Assistant can detect and share the user's location context and the location of the nearest urgent care facilities. This context can be useful in helping the consumer take the next step to access and schedule healthcare resources and services.
By powering the Google search functionality with Google Assistant, Google can provide more services and create a better search experience, reducing the friction around accomplishing day to day tasks and retrieving information.

Voice search stats at a glance:
89% of consumers use Google Search when looking for healthcare​
70,000 health-related queries go through Google every minute
756% growth in last two years in those who used voice search to find physicians​


Key features of Google Assistant:
Voice search (the top reason to use Google Assistant is to ask a question and get an answer; this is where your brand can best influence Google Assistant)
Managing calendar and accessing/organizing personal information
Make calls
Take notes
Create lists
Include your favorite actions (actions are like apps that a user can add to their Google Assistant)

What searching with Google Assistant looks like: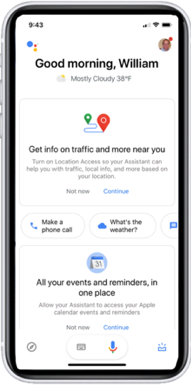 Google Assistant with a voice search-rich result after being asked a specific question,
linking directly back to relevant organization websites with directions and ways to contact them: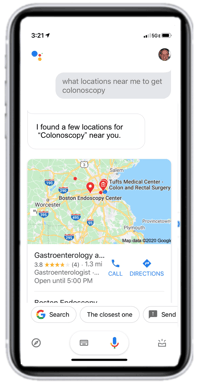 Optimizing voice SEO with Google Assistant
Now that the biggest search engine (Google) has expanded the reach of their virtual assistant, it is imperative for organizations to incorporate voice SEO into their overall SEO strategy. The best way to optimize your voice SEO is by creating questions and answers that match commonly-asked questions by consumers— this increases your chances of having your questions indexed by all major search engines.
We'd like to show you more – we just introduced Orbita's Voice SEO product where you can manage the questions your audience will ask and curate the answers you want them to receive (and also the answers you want them to see if they're looking on a device or browser).
Start improving your search engine rankings and get found when consumers voice search. Take a look here and if you want to learn more, we're happy to chat.