For the purpose of bringing this blog post to life, we've included examples of a fictional healthcare organization named Valley Health.
As consumers expect real-time access and immediate information when making purchasing decisions, it's no surprise that as patients, they have similar expectations when it comes to making healthcare decisions. More and more often, healthcare organizations are placing higher priority on their Digital Front Door; the digital channels by which patients can access and engage with the organization's resources and choose to become a patient.
With a digital front door strategy in place, healthcare organizations can empower their patients to easily find them online and quickly navigate healthcare information and services to find the right doctor or location and get scheduled to be seen.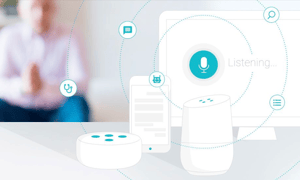 Recent data on how consumers and patients search for services:
To power their digital front door and connect with patients in novel and meaningful ways, healthcare organizations are turning to conversational AI and virtual assistant technology.
What's exciting is that by using conversational AI, virtual assistants have the capacity to provide a curated and personalized experience. The technology can incorporate existing information (EMR, provider database, hospital website, etc.) into the conversational experience while also sourcing new information in contextually appropriate ways ("who does cataract surgery that accepts Cigna?"). These allow the virtual assistant to meet consumers' needs 24/7 with self-service, while driving deeper engagement so the time they spend with providers is optimized.
How do conversational AI-powered virtual assistants solve access challenges?
Empowering discoverability by democratizing access to care (i.e. optimizing for voice search and voice SEO)
Personalized navigation to the right service or information (i.e. symptom checking, find-a-doctor tools, and conversational calls-to-action)
Curated conversion to convert the consumer to become an active patient (i.e. digitally-enabled scheduling, or connecting the patient directly to the right clinic or person)


How does voice search impact discoverability?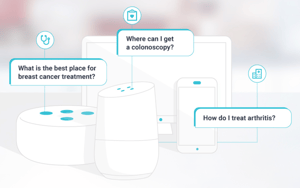 Increasing consumerism requires chat and voice tools inspired by consumer expectations in other industries such as retail and finance but with a healthcare twist. For example, whereas e-commerce tools suggest other products based on search history, a virtual assistant can suggest relevant services based on a patient's search inquiries.
This is especially the case when big news hits. When somebody has received a significant medical diagnosis, for example, their first stop is to search for information — which represents a valuable opportunity for organizations to ensure that their content and resources are readily available and easy to find. A true digital front door needs to extend to where the consumer is - without requiring you to download an app or serendipitously discover a website.
For example, when a consumer searches for healthcare information - and 89% of them turn to Google search first - they may ask "where should I have my colonoscopy?" or "who does cataract surgery that accepts Aetna?" or "can urgent care do x-rays?"
Today, the advent of natural language query (aka voice search) has dramatically changed search results as we know it. 71% of consumers use voice search on their phones at least once a day: people are looking for information in the way that they ask questions, not just by keyword search. Search Engine Results Pages (SERPs) are not optimized to help consumers get the right information when searching for care in this new voice-first world. In short, your organization can have the best healthcare in the world, but if consumers can't find them when looking for care, it's moot.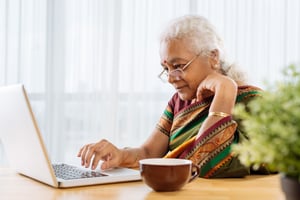 Virtual navigation: finding the right care
Virtual navigation does not require complex clinical information. Instead, it takes a proactive role in guiding a patient to relevant and helpful resources or services. Let's look at what happens when a consumer searches "where should I have my colonoscopy?" The best optimized digital front doors extend to the SERP which features the nearest or best care services. Being able to control this content and direct the consumer to the right place is critical: in 2020 and beyond, your organization controls not just the content featured in the result, but also a conversational call-to-action takes that content one step further. It looks something like this:
Consumer search: "where should I have my colonoscopy?"

Voice SEO-optimized SERP position zero, 1, 2, 3 looks like this: "Valley Health Gastroenterology is consistently ranked best surgical center in the region"

And then, when the consumer clicks that result, they're launched into a curated call-to-action (CTA):

Valley Health virtual assistant: "I'm here to help! Are you looking to schedule a colonoscopy?"

Consumer: "yes"

Valley Health virtual assistant: "That's great, I can help you with that. I'm going to ask you a few questions... are you over the age of 50?... Do you have a family history of colorectal cancer?... let me show you how to get scheduled for your procedure..." (ultimately converting the patient to be scheduled to be seen, or to talk to the right person who can help. No need to download an app, no need to block time during a busy work day for sitting on long phone holds with atrocious music.)
This virtual navigation process takes a few different forms and can include symptom checking (choose the content provider of your choice), virtual triage, and even a virtual waiting room experience that can augment the wait time for a virtual visit.


Conversion: turning the consumer into a patient
Today, consumers can not only receive targeted and relevant search results when looking for care, but virtual assistants curate the consumer experience in a high-touch way to convert consumers to patients by triaging them to the appropriate service, provider, or location, and then scheduling and initiating the check-in process, all before they even touch the clinic. This high-touch experience leads to a voice and chat engagement that offers personalized arrival instructions, personalized payment information, and clinical information relevant to the visit.
This is similar to what consumers see when looking for a restaurant: they're directed to a digital scheduling modality such as Open Table or Resy when available, or a phone number pops up on the screen asking "would you like to call 415-555-6723?" eliminating any friction in the process, regardless of digital readiness for scheduling; ultimately helping get you to the table and eating to your heart's content.
Large health systems are using these conversion-oriented virtual assistants to address the diverse scheduling needs of a sub-specialty organization. The virtual agent may use symptom checking to digitally schedule an urgent care visit for a patient with a suspected fracture or sports injury. Or, for a neurology clinic that specializes in stroke patients and may or may not be the most appropriate first-stop for your headaches, the virtual agent can seek more information from you then initiate a direct phone call to the neurology scheduler who will have a personal conversation to get you the right help.
Conversational AI is truly next-generation: the virtual assistant can not only schedule the appointment and provide reminders, but it can inquire with the patient: "do you need a ride to your visit?'" and "have there been any changes to your insurance?" If the patient responds with "my insurance changed to Cigna in October," the virtual assistant is able to ask them to upload a photo of their new insurance card and inform them of the amount of their copay.
Conversational AI technology can be implemented in a wide range of ways depending on the institution's strategic needs.
For a large oncology center

, it may be empowering cancer patients with a recent diagnosis by directing them to your center of excellence ("Over 5 million patients have trusted Valley Health during their cancer journey... have you recently had a cancer diagnosis?")

For a large health system

, it may be increasing your share of commercially covered patients with high-volume procedures for your ambulatory surgical center ("Valley Health's renown ophthalmology group performs the most cataract surgeries in the valley")

For a primary care physician group

, the power is in offloading symptom checking and virtual triage to a virtual agent that can guide the patient to the easiest, most accessible urgent care that offers x-ray services ("Valley Health Urgent Care offers quick and convenient x-ray services for walk-ins")
With a single contact point, a digital front door strategy powered by virtual assistants can empower healthcare organizations to connect with consumers and facilitate meaningful interactions throughout the full patient journey. Without needing to download an app or hope for serendipity, meet the consumer wherever they are via voice, chat, or text.
Sources:
https://numanaseo.com/7-areas-focus-your-medical-seo/