The New Healthcare Consumer
The increasing consumerization of healthcare drives behaviors like "shopping around" for health insurance, whether it be due to cost or convenient access to care. This can result in members switching from one plan to another during enrollment periods. As evidenced in a survey by Accenture, over a quarter of Americans describe themselves as "not loyal at all" to their insurer.1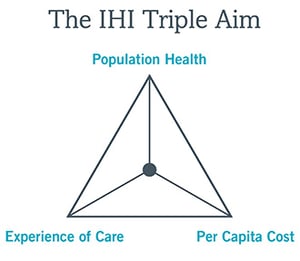 What can healthcare payers do to maintain their membership enrollment as consumers search for the best deal—especially while under pressure to achieve the Triple Aim2 of improving the patient (and member) experience, improving the health of populations, and reducing the cost of care?
Let's start with updating the conversation with members and finding a better way to connect with them in this age of technology.
68% of healthcare consumers say they would prefer to shop for a plan digitally versus in person or over the phone.3 No longer limited to desktop or even mobile browsing, a digital search can and does include voice as a natural way to search, and shouldn't be restricted to reading a static page.
Prospective members expect to have their questions about their plan options answered in real time, without waiting on hold—or worse, until the next business day—to speak to a live person.
An AI-enabled virtual assistant can begin to address customer expectations by providing a way to easily ask questions to compare rates and benefits based on their specific needs whether it be by geographic location or type of service, both of which may lead directly into an enrollment process/workflow.


Cost Savings
Once customers have selected and enrolled in a plan, member retention requires relationship-building that has traditionally been difficult to scale. The goal is to encourage members to use their preventative care benefits and services which have been designed to promote staying healthy and/or properly manage their conditions in an easy, frictionless way.
Many health plans offer valuable benefits such as:
Telemedicine/Telehealth

Mail order prescription delivery

Second opinion consultations

Covered transportation to doctor's appointments
These benefits can help save members time and money— and reduce expenses for payers by ensuring health conditions are better managed before they become serious and difficult to treat. Interestingly enough, many health plan members often don't even know these services are available to them.
Conversational AI for healthcare can help members access these benefits by answering, for example; voice searches for things like where to see a doctor after hours, provide directions to the doctor's office, or aid in determining how to get a second opinion. As natural language processing capabilities continue to evolve and become smarter, voice and chatbot-powered healthcare virtual assistants are rapidly becoming a more powerful, cost-effective way to build member relationships. This technology can be used to gather meaningful and relevant targeted information (including details that indicate various social determinants of health) that is delivered at the right time to boost enrollment and lower payer costs by empowering members to make the most of benefits. Again, as an easy example, receiving preventative care can often mitigate the risk of having to treat certain illnesses and conditions.


Preventing Annual Enrollment Dropoff
Annual enrollment can be a high-risk period for member drop-off. One method for helping to minimize member drop-off is to create an easy renewal process for members who want to stay in an existing plan.
Every annual enrollment season, many consumers repeat the experience of having to sit through a seminar explaining the details of multifarious packages that don't apply to them, slogging through a multi-page description of benefits trying to figure out if anything has changed, and filling out paperwork just to re-elect the same set of benefits they've been happy with all year.
"Would you like to keep your current plan?"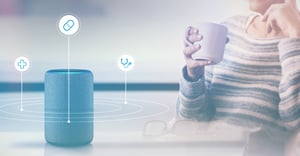 A voice and/or chatbot virtual assistant can ask questions like this to streamline the annual enrollment experience and boost member satisfaction. In some cases, members may even find a lower plan option depending upon what is being offered during this period.
If a member would like to make changes to their plan, perhaps:
They got married and joined their spouse's plan! Congratulations are in order!

They got married and need to add their spouse to their plan

They had a baby or adopted a child

They had a skiing accident on vacation and realized their high-travel lifestyle requires broader network coverage
As the conversation continues, the AI-enabled virtual assistant can ask filtering questions about where a member lives, the percentage of travel in and/or out of the country, what sort of coverage is most important to them, and what their budget is like, to determine and select the most appropriate plan for them.


Getting the Most Out of Customer Interaction
Members can ask a virtual assistant plan-specific questions, such as "how much have I spent against my deductible to-date?" or "who is the best pediatrician near me?" — and they won't have to talk like that to get an answer.
"Haven't I already met my deductible?" or "Find me a good doctor for my son" will do, and the AI-enabled virtual assistant can ask appropriate questions like "How old is your son?" if needed, to be sure of user intent.
Natural language processing capabilities, machine learning, and a low-code platform for customization allow a healthcare payer organization's virtual assistant to answer a question like "the best pediatrician" with a range of patient satisfaction ratings, with the inherent assumption that that the member means to search for talented in-network pediatricians. All of this is accomplished by speaking in a natural conversational way, like speaking to a person versus an automated machine.
The best natural language solutions won't need to make people talk like machines in order to get a useful answer.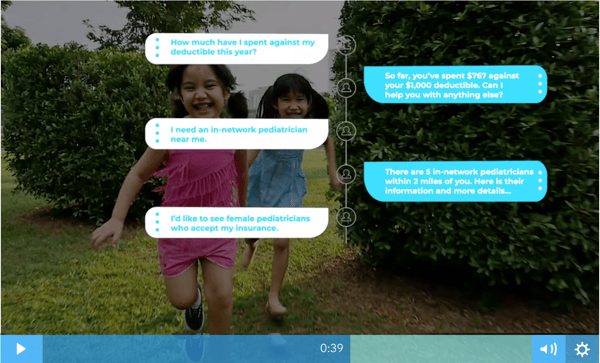 With virtual assistants to help answer the most common questions, member benefits divisions can cut down on repetitive, low-value interactions over the phone such as:
"Is Dr. So-and-So in my network?"
If the doctor is not in network, "what is the out-of-network fee?"
"I'm going to be traveling. Am I covered where I'm going?"
The virtual assistant can act as a triage agent, reducing call volume so member service representatives have more time to address interactions that genuinely require a human touch or human judgment. Making information easily available can result in an increase member satisfaction and ultimately member loyalty.
Not Just a Switchboard
Natural language processing capabilities are rapidly improving, which enables modern voice and chatbot-powered virtual assistants to understand the context behind what someone is saying even with common non-sequiturs and self-interruptions that arise in normal, unscripted conversation. With conversational AI, there is an added bonus of the capability to decipher these nuances in any content across multiple channels. For example, this could include a web or SMS text chatbot, a virtual assistant delivered through a smart speaker, or through an analog phone.
Multi-modal content capabilities are vital for engaging members, because customers don't always use one channel to communicate with their health plan. They may use their desktop to start researching options when annual enrollment comes up at work, stick the tab off to the side to get a project done and forget about it, ask Alexa about it when they get home, and try to finish up their enrollment paperwork on their mobile app in the morning. Over the course of their research, shopping, and selection, they may use the web and/or chatbots— either by text or voice.
An integrated conversational AI platform can improve member experience by reducing wasted time repeating steps to get back to where they left off on a different platform. A cross-platform conversational AI framework allows for integration with computers, smartphones, smart speakers, and voice assistants into one seamless experience that feels like one continuous asynchronous conversation.
Conversational AI can be implemented incrementally within a healthcare payer organization with minimal disruption to existing procedures. This allows member services divisions to dedicate an increasing percentage of their time to non-routine calls that shouldn't be automated and restores the human connection to member services.
A conversational AI platform like Orbita is designed to progressively deploy individual modules, such as annual enrollment renewal and plan changes, finding an in-network provider, and explanation of benefits with a Q&A component. Modular deployment can facilitate the development of a customized system without the need to bring in a coding expert— and without significant downtime.
As the consumerization of healthcare continues to drive demand for interactive voice and chat engagement, implementation of virtual assistant systems for healthcare payer organizations will become increasingly more imperative.
Learn how the newest consumer-friendly healthcare virtual assistants can help you meet members' needs in this rapidly evolving space that is providing self-service options without cumbersome browsing and long wait times.



Sources: