In the past two years, voice and chat virtual assistants have been deployed within every single one of the top 20 life science organizations, including Bristol Myers Squibb, Novartis, Merck, and Amgen.
As a brand marketing agency and/or internal team, WHAT ARE YOU WAITING FOR?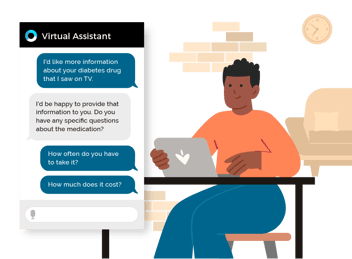 Virtual assistants are projected to handle 75-90% of healthcare and banking queries by 2022. They currently support various patient needs, including diabetes education, oncology treatment on-boarding, and financial assistance for arthritis medications.
A virtual assistant strategically integrated into a pharmaceutical marketing plan and launched on a brand's website or patient support hub can provide:
1. On-demand, 24/7 engagement, and accessibility:
We're living in an Amazon, Google, Snapchat world. Consumers are used to and EXPECT speed and efficiency. A survey of 1,000 U.S. adults found that 72% of respondents are likely to purchase from companies that communicate via chat messaging. Using conversational AI, you can provide a more authentic, self-service experience for patients and caregivers who are accustomed to, and now prefer to, communicate through a messaging channel (at any time!)
2. Critical data and insights:
An interaction with a user through a virtual assistant offers organizations the ability to gather essential information. You can gather both quantitative and qualitative data through a guided button-driven experience and open-field text. What questions do your consumers REALLY have about your drug? How scared are patients, honestly, to change from a competitor's brand to yours? What side effects are creating hesitation from your target audience?
3. Customer service cost reduction:
Organizations can reduce customer service costs by up to 30% ($8 billion) by implementing conversational virtual assistant solutions. Leveraging intelligent automation to address the most frequently asked questions allows call center agents to focus on and provide superior service for those urgent and less common requests.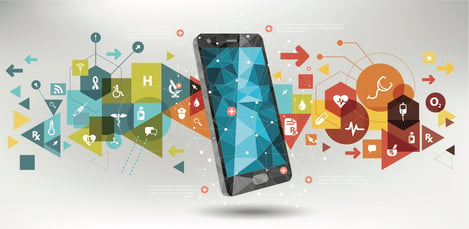 The average patient from the U.S. spends $1,200 on pharmaceutical drugs per year. In saturated markets, including Diabetes, Oncology, and Rheumatology, innovative brand engagement is one of the only ways to help differentiate one drug over another.
Plunging into the world of digital health solutions can be daunting, but these digital tools are no longer a 'nice to have' but a 'must-have.' Orbita can simplify the process of implementation with a crawl, walk, run approach to ensure secure and exceptional experiences.
Don't hold your brand back - incorporate virtual assistants into your marketing strategy today!