Newark will be buzzing next week with lots of energy and engaging dialogue at VOICE Summit 2019 being hosted at the New Jersey Institute of Technology. Now in its second year, the event will deliver yet another excellent agenda and provide several new add-ons. Team Orbita attended last year and found the event to be very well organized – not an easy feat in an inaugural year at a venue that's atypical for large-scale conferences. Kudos to Pete Erikson and team on creating what has become the voice event of the year. After reviewing the full line-up for VOICE Summit 2019, I recommend the following as "not-to-be-missed" offerings:


1)

Opening Keynotes, Tuesday, July 23



The event opens with a line-up of exceptional keynoters from the leading companies in voice:
David

Isbitski

, Chief Evangelist, Amazon Alexa and Echo


I saw David's session last year. He

delivered

an incredible

keynote presentation

highlighting current trends and showcasing thought-provoking possibilities for the future of voice.
Adam

Cheyer

, C

o-founder and VP Engineering, Viv Labs (a Samsung subsidiary)


Prior to launching Viv Labs, Adam was a co-founder and VP Engineering of Siri. His session is sure to engage.
Noelle

LaCharite

,

Principa

l PM

Manager, Enterprise Voice/Cortana

, Microsoft




Noelle has served as a trainer, architect, and evangelist for IBM, RedHat, EMC, Amazon and Microsoft – with a focus on democratizing AI and mindful leadership.
Stay tuned! Conference organizers have announced a special presentation, guest, and announcement on Tuesday morning.
2) Healthcare sessions featuring Orbita customers, colleagues and executives

Orbita is pleased to collaborate with leading experts to share the latest expertise and insights from the world of voice for healthcare.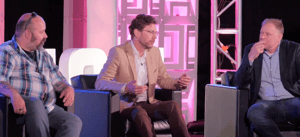 State of Voice and Chatbots in Healthcare - Tuesday,  July 23 at 1 pm
I look forward to sharing a stage with four innovators as we discuss their successes, challenges and perspectives on what's coming next. Join us for this discussion along with a lively Q&A.
Anna

Kravets

, CDO Health Services & Solutions,  Merck

Jeffrey

Shebetich

, Product Owner, Advanced Innovations Group, Sleep & Respiratory Care,  Philips

Daniel Solomon, MD, MPH, Brigham and Women's Hospital, Professor of Medicine,  Harvard Medical School

Jonathan Berman, Senior Manager, Consulting, Strategy & Analytics,  Deloitte


Voice Assistants in Healthcare -- Are We There Yet? - Wednesday,  July 24 at 1 pm
I'm thrilled to present this year on the main stage where I'll review real-world use cases, explore practical challenges of delivering secure, voice-powered healthcare applications, and assess the industry's readiness to bet big on voice. Be sure to say hello after my session!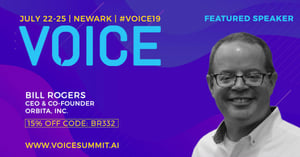 Diving Into Investment and Adoption Trends of Voice Tech in Healthcare - Wednesday,  July 24 at 2 pm
Orbita CEO Bill Rogers joins a stellar group of panelists from UPENN, Sopris Health, Newark Ventures, DreamIT Health Tech, and Luminary Labs. Also, check out another  investment-focused panel including Orbita colleague  Joyce Even, Vice Chair of Global Business Solutions, Mayo Clinic,  who recently co-presented a webinar  with Orbita titled  The Power of Conversation: Healthcare Content Services with Voice.

3) Additional Healthcare Sessions

Many of our colleagues will present on a wide array of healthcare topics including these sessions:
Best Practices in Voice-Enabling Patient Care

Integrating Voice into Value-Based Healthcare: Triumphs and Challenges

Healthcare Industry Executive Briefing

What if Healthcare Could Be Changed in Less Than 6 Seconds?

Voice First: A Platform to Enable Older Adult Engagement

Ideating and Designing for Voice First

4) Workshop on Voice Strategy, Monday, July 22, 1:00 PM - 4:00 PM

Voicebot.ai CEO Bret Kinsella leads this interactive three-hour session which is sure to be a success. Attendees will review core elements required for developing a comprehensive and actionable voice strategy. If you miss Bret's workshop, please don't hesitate to connect with us for an Orbita complimentary "Getting Started" session.


5) Fun and food!

Enjoy conversation and camaraderie as you take in these experiences:
Welcome Party @

Barcade

, Monday evening

NJIT Welcome & Startup Reception, Tuesday evening

Voice Awards Dinner, Wednesday evening
Last year's event featured a line-up of excellent food trucks just outside the main doors. I plan to make my way back to vendor who offered amazing Mexican food!
Team Orbita will be on the exhibit floor located next to the Expo Demo and Livestream Theater (adjacent to our Amazon Alexa friends)! Stop by to talk with us. I welcome the opportunity to meet with you - please reach out via the WHOVA app or use this form to schedule a meeting on our calendars. See you in Newark!