Over the last two years we've experienced the impact of voice assistants like Amazon Echo and Google Home, which are providing a new channel for users to engage with their favorite applications such as the news, weather, sports, Wikipedia, Uber, Spotify, and Fitbit. The internet of things (IoT) is enabling voice assistance to be embedded in products and is providing an easier way to engage with technology.
What does this mean for mobile apps? Are they going to be replaced with a voice assistant? No, voice is just another powerful channel, just like a website and mobile are channels to engage people. People will gravitate to the channel that best solves the tasks that they are trying to accomplish with the least amount of friction. For example, looking at complex tabular data may be best to interact through the web where you have a big screen. Asking for the time, or weather is more easily done via a voice assistant like Amazon Dot.
Voice Assistant Applications are maturing, instead of being a single transaction such as "who won the Red Sox game last night?" or "what is the temperature?"; they are becoming conversational i.e. the user can go back and forth asking or being asked questions. With context, the experience can be personalized like you can with your mobile and web experience.
What's next? It is the integration of a voice assistant with a mobile app. Engaging an app through voice allows for both a voice and a visual experience all being text free. For example, a popular voice enabled cooking mobile app Allrecipes has a voice assistant embedded in their app. Recipe recommendations and step-by-step cooking instructions become hands-free while you're chopping and preparing your meal, asking Alexa along the way what ingredient to add next and your tablet screen updating with the relevant content.
---
Want to learn more about Intergrating Voice Assistants Into Mobile Apps?
Watch our recent webinar!
---
There are over 250,000 mobile health applications to help manage medication adherence, chronic care management, and more. A large portion of that audience are elderly who own smartphones but may have difficulty navigating a health app. What if all they had to do is open the app and click the microphone, and a conversation starts,
Alexa: "Hi John, have you taken your 8AM medication?
Mobile devices displays medication
John: "Yes"
Mobile device shows a weekly medication status
Alexa: "Great I will update your care team"
John: "I also need a ride for tomorrow at 6 pm"
Alexa: "Okay, I heard you say I need a ride for tomorrow at 6 pm, is that correct?
John: "Yes"
Alexa: "Okay, notifying the transportation service and confirming a ride for you tomorrow at 6 pm"
Mobile device displays ride information: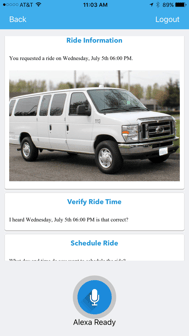 The benefits of mobile apps being embedded with voice assistants:
Hands free navigation - the user can listen or reference the rich media pushed to the app in context of the conversation
Less friction - with voice you can easily say what you want to do, essentially skipping the many clicks you would need to do if you were doing it through a mouse
An app can provide visual clues to what a person could do next though voice
An app can show how the user responded, and see the history of engagement
A mobile app can provide context like GPS information, to tailor the experience
A mobile app has a camera, where the voice assistant could request a picture (for example, you're at the Eiffel Tower and you take a picture and ask the app to explain what it is and its history)
Unlike an Echo, that exists in someone's house a mobile device can go anywhere
There will be many benefits of combining mobile apps with voice assistants. Orbita provides a mobile SDK to integrate a voice assistant into any mobile application.
With Orbita Voice, businesses can…
Accelerate development and streamline maintenance of voice assistant applications with pre-built templates and intuitive tools designed for non-technical business users.
Easily integrate with existing business systems, processes, and digital channels using flexible APIs and 3rd party integration.
Maximize scalability, security, and performance of voice apps with an enterprise grade cloud platform.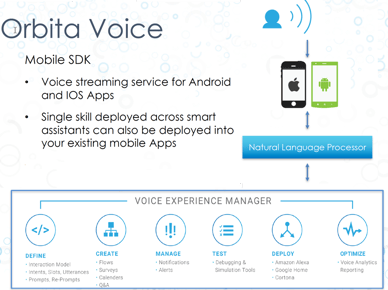 ---
Want to learn more about Intergrating Voice Assistants Into Mobile Apps?
Watch our recent webinar!