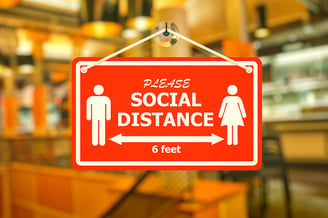 In a matter of months, the term "social distancing" has gone from a hypothetical intervention plan to prevent the spread of a contagious disease to our new normal.
It is now a household phrase: splashed across newspapers, stamped on the doors of public buildings, and discussed at the dinner table. As COVID-19 continues to wreak havoc worldwide, time continues to pile up since many of us have seen our loved ones. While social distancing has been essential for slowing the spread of the disease, it has produced its own set of symptoms: social isolation, loneliness, depression, and anxiety, to name a few.
As one of the most at risk groups for the more severe effects of COVID-19, the elderly demographic is also more susceptible to these effects of social isolation. Many of our parents and grandparents live out of state and are now faced with new travel regulations and restrictions. Public transportation is no longer a particularly reliable or safe option due the crowded nature of buses, trains, etc. My 89-year-old in-laws, along with many others, are strictly confined to their assisted living and nursing homes. What was once an active, social environment is now one of the most socially isolating places to be.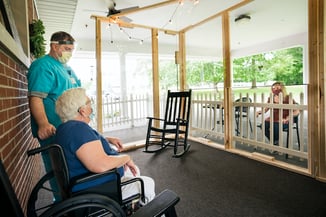 A lack of routine and reduced human interaction can generate feelings of loneliness which contribute to the development or worsening of depression and anxiety. The population of 65 years of age and older is also at a higher risk for developing more serious health conditions, such as dementia, heart disease, and stroke.
So how can we combat the negative effects of social isolation? Imagine if you could teleport from anywhere in the world to check in on a parent or grandparent at any time. The Amazon Echo Show gets you pretty close to being able to do that. The drop-in feature allows verified contacts on Alexa-enabled devices to connect to its video and audio. With both of my in-laws following strict social distancing guidelines in their assisted living home, we sent them this device already set-up. When we want to check in, we ask Alexa to "drop-in on Mom and Dad," and within seconds we are talking to them face to face and it requires no action on their part to connect the call.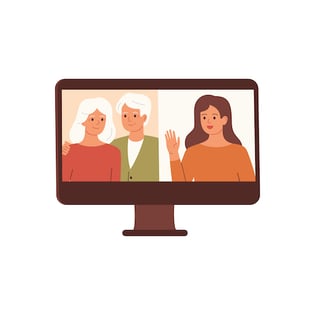 The device does come with some privacy settings including a do not disturb mode and a built-in shutter to cover the camera. Its focus on voice direction rather than touch makes it convenient for us to use, even while we are on the go, and simplifies the process of reaching out to family for my in-laws. They no longer have to hold the device up while talking and don't have to search through a number of apps to find a way to call or FaceTime. Now, they can see their children and grandchildren regularly to participate in some much-needed conversation as they adjust to this new normal.
In addition to its ability to easily connect people virtually, my in-laws utilize the Echo Show to check the weather, get the news, and schedule reminders. A simple, "Alexa, what is the weather today?" or "Hey Alexa, play a peaceful guitar playlist on Spotify" will produce responses immediately. With little semblance of their normal schedule during quarantine, it has been easy for them to lose track of time and cause them to take their medication irregularly. With the reminders on the Echo Show, they can ask Alexa to tell them to take their pills or administer their medicine at the appropriate time.
While the Echo Show does not replace human interactions, it has filled some of the roles that we can't at the moment to ensure people living in isolation are still able to connect with loved ones.