No matter who you are or where you live, everyone has been impacted by the COVID-19 pandemic in some way. As the contagious virus travels across the world at warp speed, it wreaks havoc on patients, providers and hospitals alike. While the world comes to grips with its severity, technology has risen to the occasion by helping us stay connected to work, school and with loved ones.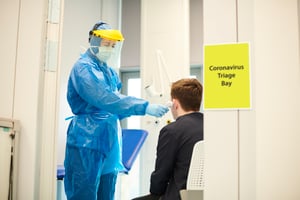 This same technology can also play a major role in helping patients (particularly those suspected of having the illness) connect with care providers. In fact, this is a critical tool in our limited arsenal to slow down the spread and reduce the massive influx of patients to the health system.
As patients around the world grapple with the potential of contracting the novel coronavirus, it's critical that healthcare organizations provide them with the tools they need to:
Check on their symptoms
Know where to go to get tested if necessary
Learn how to take care of themselves if they or their families get sick
Virtual screening and triage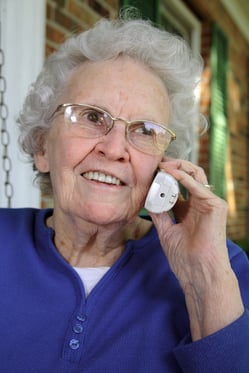 The first step in the journey if a patient feels ill is to consult a virtual screening chatbot tool on a healthcare organization's website, through text message, or through an automated phone call. This virtual layer of front-line response supports healthcare organizations by offering a self-service option for patients to triage questions they'd already be asking - regardless of digital literacy.
At this stage, a patient will either find comfort in knowing their symptoms are not worrisome, or they may realize they need further treatment. The triaging tool can guide sick patients to a phone number to call and a testing site— or route them to another service to receive care. The tool is available 24/7 no matter what the patient's needs may be.
Managing patients with mild symptoms at home
The combination of an influx of sick patients and the contagious nature of the illness makes it imperative to stay home for the large majority who won't become critically ill. The chatbot solution makes it easy for providers to deliver automated check-ins to sick patients recovering at home throughout the day. The solution also provides a robust set of information that patients can review if they have any questions about managing their symptoms and recovery at home.
As the pandemic evolves, so will the guidelines— it will become even more important for organizations to stay nimble and current in how they communicate and the information they share with their patients.
Supporting your front-line response

Orbita is offering free use of our COVID-19 Screening Chatbot & Knowledge Base through June 2020 to help organizations provide a virtual layer of support and screening for patients and employees across web and mobile browsers (try the bot live on our homepage).
If you'd like to put this on your website now

, let us know here -
we'll send you instructions on how to immediately deploy the chatbot to your website.