As consumers expect real-time access and immediate information when making purchasing decisions, it's no surprise that as patients, they have similar expectations when it comes to making healthcare decisions. More and more often, healthcare organizations are placing higher priority on their Digital Front Door; the digital channels by which patients can access and engage with the organization's resources and choose to become a patient.
With a digital front door strategy in place, healthcare organizations can empower their patients to easily find them online and quickly navigate their healthcare options like find a doctor or location and schedule an appointment.

Recent data on how consumers and patients search for services: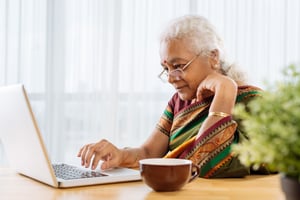 17% of consumers search a health system's website when looking for care

71% of consumers use voice search on their phones at least once a day

50% of consumers who search on a smartphone visit a business the same day

To power their digital front door and connect with patients in novel and meaningful ways, healthcare organizations are turning to conversational AI and virtual assistant technology.

A few common services offered by conversational AI-powered virtual assistants include:
Democratizing access to care (i.e. voice search, find a provider, schedule a visit)
General clinical information (i.e. what is a labral tear?)
Personalized care information (i.e. how often do I need to do my PT?)
Logistics (i.e. can you refill my prescription?)
Today, consumers can not only receive targeted and relevant search results when looking for care, but virtual assistants can curate the consumer experience in a high-touch way to convert them to patients by triaging them to the appropriate service, provider, or location, and then scheduling and initiating the check-in process, all before they even touch the clinic. This high-touch experience leads to a voice and chat engagement that offers arrival instructions, personalized payment information, and clinical information relevant to the visit.
What's exciting is that by using conversational AI, virtual assistants have the capacity to provide a curated and personalized experience. The technology can incorporate existing information (EMR, doctors, hospital website, etc.) into the conversational experience while also sourcing new information in contextually appropriate ways ("can you tell me what medical insurance plan you have?"). These allow the virtual assistant to meet patients' needs 24/7 with self-service, while driving deeper engagement so the time they spend with providers is optimized.

How does this help healthcare organizations?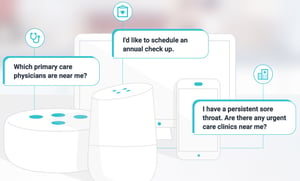 Conversational AI technology can be implemented in a wide range of ways depending on the institution's needs. For a large oncology center, it may support patients navigating complicated cancer treatment services. For a neighborhood clinic, the power is in offloading symptom checking and virtual triage to navigate the patient to the easiest, most accessible nearby care for their flu symptoms or knee pain.
Voice and chat engagement powered by conversational AI can be both nuanced and personalized. Let's say an existing patient needs to be reminded that they have a check-up soon: the 1.0 version is a text message that reminds the patient: "Your visit with Dr. Green is on Tuesday at 1pm," and the slightly more robust 2.0 version gives the patient the opportunity to reply "Confirm" or "Cancel."
Meanwhile, conversational AI is truly next-generation: the virtual assistant can not only schedule the appointment and provide reminders, but it can inquire with the patient: "do you need a ride to your visit?'" and "have there been any changes to your insurance?" If the patient responds with "my insurance changed to Aetna in October," the virtual assistant is able to ask them to upload a photo of their new insurance card and inform them of the amount of their copay.
The AI behind this technology is so powerful that it has the ability to provide certain safety nets. For example, if an 88-year-old patient on a critical medication fails to pick up their refill, the virtual agent can notify a care team member and also initiates a call to the patient's phone to figure out why the medication wasn't picked up and see what action can be taken to remedy the issue.
Conversational AI platforms like Orbita help healthcare organizations leverage and distribute curated, personalized content that is either customized by the organization or licensed through gold-standard content players.

Virtual Navigation
The magic of conversational AI lies not so much in the services virtual assistants offer, but rather the method by which they offer it. Because a virtual assistant can either be connected to the patient's profile or to source information without having any existing context, organizations are able to democratize access to many services and care, offering help and support at every step along the patient journey.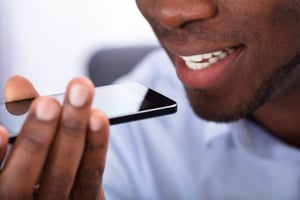 Increasing consumerism requires chat and voice tools inspired by consumer expectations in other industries such as retail and finance but with a healthcare twist. For example, whereas e-commerce tools suggest other products based on search history, a virtual assistant can suggest auxiliary services based on a patient's medical or search history. If a patient is looking for specific content, the conversational technology can not only identify their need but send them more information, and probe further with related questions depending on their condition.
The idea behind virtual navigation is that people aren't just looking for information. They're also going to want to take action like make an appointment, getting a second opinion, and talking to their insurance company about potential costs. This is especially the case when big news hits. When somebody has received a significant medical diagnosis, for example, they're going to be searching for information all at one time— which represents a valuable opportunity for healthcare organizations to ensure that their content and resources are readily available and easy to find.
Virtual navigation does not require complex clinical information. Instead, it takes a proactive role in guiding a patient to relevant and helpful resources or services. For example, when a woman looks up neonatal nutrition, we might anticipate she is either expecting or anticipating becoming pregnant, and guide her to the right resources and care, soliciting more information along the way.
Being that trusted, 24/7 accessible resource provides healthcare organizations the opportunity to keep that woman engaged throughout her conception journey, pregnancy, birth, and, eventually, pediatric care.

Supporting the patient journey beyond the facility setting
Virtual assistants help healthcare organizations stay connected to their patients throughout the patient journey. Before patients are discharged, their information is likely entered into an EMR system and their care management plan is potentially recorded in separate databases. A well-designed virtual assistant can send educational content to discharged patients with a documented diagnosis or procedure. That personalized post-discharge content and support can then be received by the patient through a smart speaker, a mobile app, a text, or even a phone call.
With a single contact point, virtual assistants can empower healthcare organizations to stay connected with their patients and facilitate meaningful interactions throughout the full patient journey through voice, chat, text, and beyond.
Sources:
https://numanaseo.com/7-areas-focus-your-medical-seo/